Students from Kapiʻolani Community College, the University of Hawaiʻi at Hilo and UH Mānoa turned in a strong, across-the-board performance at the 13th Annual Health Occupation Students of America (HOSA)—Future Health Professionals State Leadership Conference held on Oʻahu, with many delegates placing in their respective events.
UH Hilo
Individual events
Kateleen Caye Bio—Pharmacology, 2nd place
Kendrick Justin Dalmacio—Pharmacology, 3rd place
Daniel Kimura—Medical Terminology, 2nd place
Team events
Team A—Sheldon Cabudol, Lark Jason Canico, Kelly Gani—Public Service Announcement Team, Top honors
Team B—Leslie Arce, Deserie Pagatpatan, Travis Taylor, Jeremy Villanueva—Public Service Announcement Team, 3rd place
Kapiʻolani

Community College
Individual events
Maria Antonio—Extemporaneous Health Poster, 1st place
Ma Gessele Bonilla—Knowledge Tests, Pathophysiology, 3rd place
Rossana Buss—Medical Terminology, 3rd place
Latanya Edwards—Medical Assisting, 1st place
Erica Joy Gabriel—Knowledge Tests, Pathophysiology, 2nd place
Russiane Macalutas—Knowledge Tests, Human Growth and Development, 3rd place
Sarah Masutani—Medical Terminology, 3rd place
Dennis Ramos—Medical Math, 2nd place
Charletta Wilson—Prepared Speaking, 1st place
Team events
Ressika Epelu, Eddielyn Chicklet Fernandez, Glenn Gabriel, Victor Lacanlale, Kayah Leano-Ulit, Monica Malavong—Public Service Announcement Team, 2nd place
Sweetzel Cabanit, Seleena Calilao—Health Career Display Team, 1st place
UH Mānoa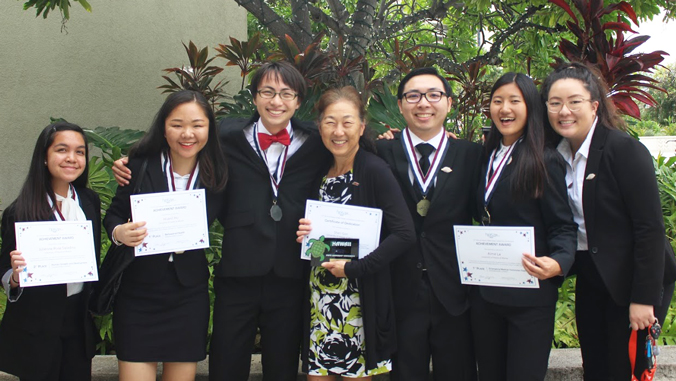 Individual events
Ma Jhessica Bautista—Medical Spelling, 1st place
Alden Chong—Sports Medicine, 1st place
Huanli Hu—Behavioral Health, 1st place
Kacie Kajihara—Transcultural Healthcare, 1st place
Lexie Kajihara—Nutrition, 2nd place
Chemaine Lagunay—Human Growth and Development, 1st place
Nicholas Loi—Pharmacology, 1st place
Ren Nakamura—Behavioral Health, 2nd place
Jasmine Rodriguez—Pathophysiology, 1st place
Jastine Rodriguez—Nutrition, 1st place
Julienne Saladino—Human Growth and Development, 2nd place
Kayzel Tabangcura—Medical Math, 1st place
Team events
Aime Le and Jessica Loi—Emergency Medical Technician, 1st place
About HOSA
HOSA is a nationwide, student-led organization endorsed by the U.S. Department of Education and the Health Science Education Division of the Association for Career and Technical Education.
The newest Career and Technical Student Organization, HOSA continues to thrive in the State of Hawaiʻi. After becoming chartered in 2005 with 210 members representing twelve schools, Hawaiʻi HOSA has since become established at twenty-three of Hawaiʻi's high schools and eight postsecondary institutions with a current membership total exceeding 1,200 members.