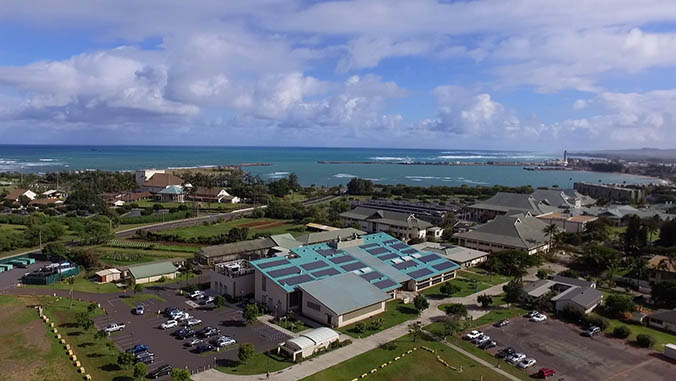 In his March 22, 2018 report to the University of Hawaiʻi Board of Regents, President President David Lassner highlighted:
UH Maui College will be among the first 100-percent renewable campuses in the nation, and other community college campuses will see a reduction in fossil fuel use under energy performance contracts with Johnson Controls. Lassner called it, "A really notable accomplishment getting pickup nationally now." He also recognized UH Associate Vice President for Community Colleges Michael Unebasami as the moving force for performance contracting at the university.
A new revenue sharing agreement for the UH managed Pacific Disaster Center (PDC) and a company named Kaazing. PDC has licensed its DisasterAWARE software to Kaazing. Lassner said it was an example of how the university is working to commercialize its intellectual property. He said, "We are getting our good work into the hands of others, and in this case literally to save lives."
Developer D.R. Horton has a sewer line that needs to cross university property for a development in West

Oʻahu

. UH has required D.R. Horton to oversize the sewer line to accommodate full development of UH West

Oʻahu

lands. This has tremendous value to UH's development efforts.
Reports from Washington D.C. on the $1.3 trillion omnibus budget bill passed by the U.S. House of representatives this morning indicate that the bill does not support the DACA program or current "DREAMers" in any way. There is however some good news for UH and

Hawaiʻi

, as none of the proposed harmful cuts have been noted yet in the 2000+ page bill. It includes an increase in the maximum Pell grant, increases in programs that support Native Hawaiian education and health, and increases for nearly all agencies and programs that fund research and training opportunities for which UH competes.
After 14 years as president and CEO of the UH Foundation, Donna Vuchinich has announced her retirement from this position. Lassner said the transition will be seamless and, "She goes out on a high note." He noted her achievements, including increases in annual fundraising from $20 million to $70 million, increases in the endowment from $78 million to more than $300 million and two successful campaigns of $250 million and $500 million.