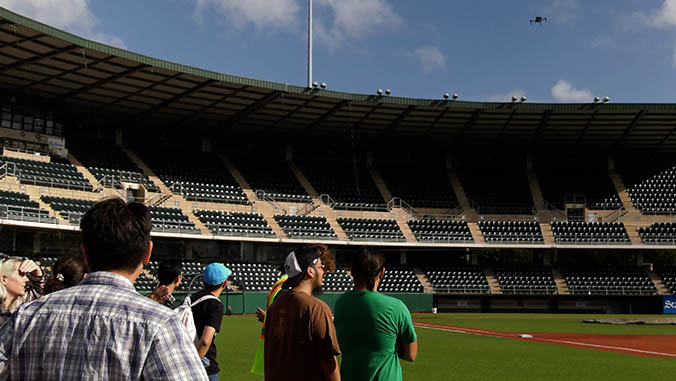 So you bought a drone for yourself or for your child because it is one of the hottest items on the tech scene and seemed cool to fly one. But you didn't know about all the are rules and regulations governing unmanned aircraft. If this is you, consider attending the first University of Hawaiʻi drone boot camp.
The camp is a chance to learn from experts best practices for flying drones including safety issues and legal guidelines. The event is scheduled for March 30, 10 a.m.–2 p.m. in Les Murakami Stadium on the UH Mānoa campus, weather permitting.
"I know that there's a lot of people that are flying drones throughout the entire state," said Josh Levy, UH unmanned aerial systems (UAS) program coordinator and one of the instructors for drone camp. He added that the event "is just a way to try and educate those folks on how to properly use drones or UAS."
The event is free and open to the public. Anyone ages 9 and older wanting to learn from experts must register ahead of time at the UH Drone Boot Camp website. The event is limited to 60 participants, but others are welcome to come and watch. Registered participants must bring their own drone and need to check in at event to learn designated flight times. There will also be a high-speed drone racing exhibition. Parking in the UH lower campus parking structure is free with a valid parking pass available at the UH Drone Boot Camp website.
Although the event is designed to familiarize novice drone operators with techniques and rules it is not a drone certification class. No food or drink concession stands will be open. Restrooms will be open.
Schedule of events
9:30–10 a.m.—Registration
10–10:10 a.m.—Welcome and introductions
10:10–10:20 a.m.—UH and drones
10:20–10:45 a.m.—High-speed drone racing exhibition
10:45 a.m.–1:30 p.m.—Exhibits open
11 a.m.–1:30 p.m.—Drone lessons (pre registration required)
11 a.m.–1:35 p.m.—Mini drone park
The drone boot camp is hosted by Office of the Vice President for Research and Innovation.