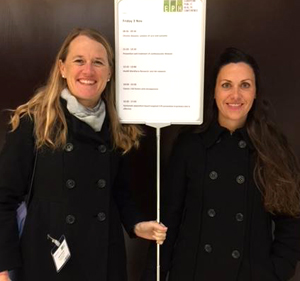 The best ways to lower the high rate of hypertension among Hawaiʻi residents may be to promote a strong sense of community and cultivate an awareness of risk factors, treatment and control options among the friends of those suffering from high blood pressure. That is according to research by two faculty members in the Office of Public Health Studies in the Myron B. Thompson School of Social Work at the University of Hawaiʻi at Mānoa.
Research done in Albania, a small country in eastern Europe, by Assistant Professor Catherine Pirkle, Associate Professor Tetine Sentell and colleagues was published in a recent issue of the European Journal of Public Health.
New insights about distinct risk factors for inadequate hypertension management among the elderly in Albania has relevance to Hawaiʻi, say the researchers, because they highlight the importance of community-level and interpersonal factors—such as relationships with friends—to hypertension diagnosis/awareness and control.
In particular, it was found that having more social support from friends and having a strong sense that your community was safe led to more hypertension diagnosis/awareness and control. These findings may provide novel intervention opportunities of hypertension programs.
Said Pirkle, "This is highly relevant to current work we are doing around preventing and managing chronic disease in the state as part of the Healthy Hawaiʻi Initiative, which seeks new ways to create sustainable changes in local communities, schools and workplaces that promote better health. Leveraging social and community ties is a great way to support public health."
Added Sentell, "Like Albania, Hawaiʻi has a unique cultural and social history. In order to better understand hypertension awareness and control in the state, it is necessary to characterize broad risk factors for hypertension from the individual to community. This ecological perspective can be critical to the successful targeting and design of impactful public health programs."
Hypertension is prevalent in
Hawaiʻi
Hypertension is a major global public health problem that is estimated to affect more than one billion people. It is highly prevalent in many settings, including Hawaiʻi, where 28 percent of adults in the 1.4 million population are known to have hypertension and many more are believed undiagnosed. That correlates with Albania, where at least 36 percent of adults in its 2.8 million population on the Balkan Peninsula suffer from high blood pressure.
Both Hawaiʻi and Albania are somewhat isolated areas of land with high rates of hypertension, especially among older adults whose proportion in the population is steadily increasing in line with global demographic trends toward an aging society.
Pirkle has been working with colleagues in Tirana, Albania, since 2012. Sentell also worked in Tirana in 2017 as a Fulbright specialist. They collaborated with Albanian medical faculty Alban Ylli and Genc Burazeri at the Institute of Public Health.
—By Theresa Kreif