A major hurricane struck the islands of Hawaiʻi and Maui on August 9, 1871, causing widespread destruction from Hilo to Lahaina. A recent study by two scientists, a Hawaiian language expert, and an educator from the University of Hawaiʻi at Mānoa revealed how historical Hawaiian-language newspapers expand knowledge of this and other natural disasters of the past.
What they found in the translations was a timeline of the 1871 storm hitting—Waipiʻo, then Kohala, then on to Maui—and detailed descriptions about the resulting destruction. The existence of such a powerful hurricane, uncovered in the historical record, more clearly defines the hurricane risk faced by the people of Hawaiʻi today.
The largest native-language cache in the Western Hemisphere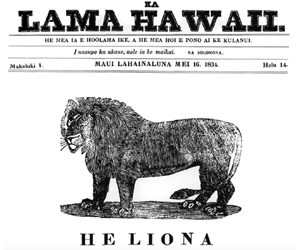 Following the introduction of the English language by missionaries and the collaborative effort with literate Hawaiians to create a written Hawaiian language, literacy rates in the islands rose from near zero in 1820 to 90–95 percent by midcentury. From 1834 to 1948 more than 100 independent newspapers were printed in Hawaiian. This newspaper archive comprises more than a million typescript pages of text—the largest native-language cache in the Western Hemisphere.
A team led by Puakea Nogelmeier, professor of Hawaiian language at UH Mānoa, director of the UH Institute of Hawaiian Language Research and Translation (IHLRT) and co-author of this study, has worked for years to convert Hawaiian-language newspapers to a word-searchable digital format that is publicly available. The IHLRT is associated with the UH Sea Grant College Program's Center for Integrated Science, Knowledge and Culture, one of six centers of excellence administered by Hawaiʻi Sea Grant.
The archive as a treasure trove of data
Steven Businger and Thomas Schroeder, professors in the UH Mānoa School of Ocean and Earth Science and Technology (SOEST), partnered with Nogelmeier and his graduate students to extend translation research, looking specifically for geophysical stories, including the hurricane of 1871. They produced a digital database of more than 4,000 articles related to meteorology and geology.
"Puakea's vision has helped conserve Hawaiian language of the past and is opening a window on the historical record that has been long overlooked in Hawaiʻi," said Businger, lead author of the study and professor of Atmospheric Sciences in SOEST. "The goal of the ongoing work is to extend our understanding of geoscience back into historical, post-contact and pre-contact times to project and prepare for future events."
Incorporating the translations into K–12 education
The translated articles are also being used in place- and culture-based geoscience education and curriculum development. With support from the National Science Foundation, Businger, Nogelmeier and Pauline Chinn, professor in the UH Mānoa College of Education and co-author of the study, searched 1870–1900 Hawaiian-language newspapers for articles relating to floods, droughts and storms—enabling detection of El-Nino-La Nina patterns and expanding the IHLRT database of articles on ʻāina (land)-based phenomena, specifically as a resource for teachers and public.
"Incorporating articles into place-based K–12 STEM (Science, Technology, Engineering and Math) lessons provides students with historical knowledge of ecological, cultural and economic changes as Hawaiʻi entered the global economy," said Chinn. "We find students, especially those identifying as Native Hawaiian, are more interested in future courses and careers related to STEM, Hawaiian language and culture after these lessons. We are hopeful that knowing the past can help us to understand where we are now and provide pathways for the future."
—By Marcie Grabowski