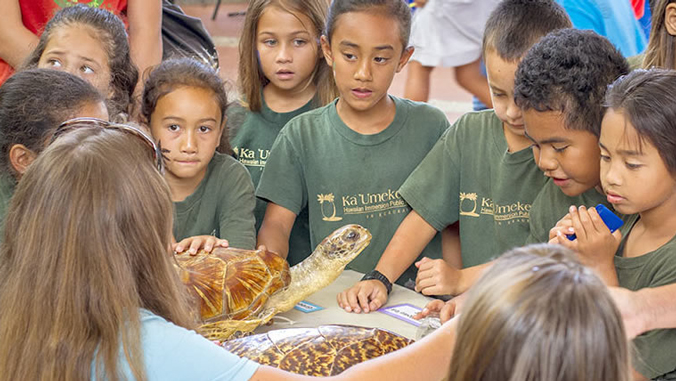 Earth Day has grown in popularity and importance since it was first established in 1970. Though it is officially observed on April 22, Earth Month events are being celebrated across University of Hawaiʻi campuses.
UH Hilo and
Hawaiʻi

Community College

UH Hilo will be celebrating Earth Week, April 15–20, with farm-to-table food, documentary films, educational exhibits and fun activities. The week culminates with the annual Earth Day Fair and Conservation Career Day on Friday, April 20.

This year's Earth Day celebration boasts educational videos, science demonstrations, expert guest speakers, a food sustainability panel, environmental science skill-building workshops, dance troupes, hula, storytellers, face-painting, campus garden tours, an environmental career fair, unmanned aerial vehicle flight simulators and many other engaging activities.

The 6th annual Conservation Career Day is held in collaboration with the Earth Fair. The event draws local scientists and agencies in the field of natural resource management, with the overall goal to inspire local students to become environmental stewards and to pursue careers in natural resource management.

For a complete list of events, go to UH Hilo Stories.
UH Mānoa
UH Mānoa celebrates Earth Day on April 19 at the UH Mānoa Campus Center Courtyard. Campus Center will be alive with community groups, music, activities, art installations and vegan food sampling. Connect with and learn from community groups who are paving the road for a healthier Hawaiʻi. The art department and student fashion designers will be showcasing student created pieces that address topics like marine debris and climate change. Student bands will start at 3 p.m., opening for Mike Love who will be playing from 5–7 p.m. The event is hosted by the UH Office of Sustainability and the Graduate Student Organization
The Oʻahu Chapter of Surfrider Foundation and Surfrider UH Mānoa Student Club are joining forces to clean Mānoa stream. They return to the Ka Papa Loʻi O Kānewai on Saturday, April 21 to stage the event and will be cleaning the stream next to the dorms and above. In 2016 they cleared 3,000 pounds of debris from the stream, and are hoping for a big turnout of volunteers.
Kapiʻolani

Community College

Kapiʻolani CC's Mother Earth Day Celebration in the ʻIlima courtyard on Wednesday, April 18 from 10 a.m. to 2 p.m. gives participants the opportunity to meet community partners, taste food from local vendors, witness live poi pounding, and enter a raffle for prizes. Stop by the Service and Sustainability Learning table to enter into the raffle.

For more information, email kccserve@hawaii.edu or phone (808) 734-9353.
Kauaʻi

Community College

Earth Month at Kauaʻi Community College runs through April 27.

Events include:
Service learning "Free the Natives" service work project, April 18, 2:30 p.m., behind Hawaiian Studies building
Poetry reading "What We Must Remember"—The Massie Case, April 18; 5 p.m., Fine Arts Multipurpose Room
Panel discussion and community conversation, 2nd Annual Kava Konvosation "Grassroots Activism: Fighting for the Earth," April 19, 4:30 p.m., Fine Arts Multipurpose Room
Earth Day Fair and

Hoʻike

, April 20 10 a.m.–3 p.m.
For more information, contact Campus Faculty Sustainability Coordinator Julia Morgan, Kauaʻi CC at jmmorgan@hawaii.edu.
UH Maui College
UH Maui College's Earth Day Festival on the Great Lawn, April 25 features booths, food, music, EV ride and drive and a special announcement about the Net Zero Energy Project. Community organizations and campus clubs will be showcasing their talents and services 11 a.m.–3 p.m., and the electric vehicle ride and drive will take place 2–6 p.m. For more information, email palio@hawaii.edu.
Windward Community College
Windward CC celebrates Aloha ʻAina Earth Week with workshops including Planting Edibles and Native Plants on April 18, 2:30 p.m. at the Hawaiian Studies Māla, and Vermicomposting/Worm Bins on April 19, 2:30 p.m. at the Hale Aʻo picnic tables. For more information, contact Harvy King, harvy@hawaii.edu or Christian Palmer ctpalmer@hawaii.edu.