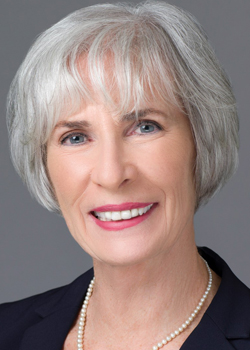 University of Hawaiʻi Vice President for Community Colleges John Morton has recommended to UH President David Lassner the appointment of Louise Pagotto as the next chancellor for Kapiʻolani Community College. The effective date of the appointment is June 8, 2018.
"Under Dr. Louise Pagotto's leadership, Kapiʻolani Community College will continue its pursuit to achieve excellence as an innovative and successful model community college. Throughout her lengthy career at Kapiʻolani, Pagotto has inspired faculty, staff and students to be fully engaged in their journey to reach their goals," Morton said.
"I'm honored and excited to have this opportunity to lead the college and focus the many strengths and creativity of the faculty and staff of Kapiʻolani Community College on a singular purpose: to inspire our students to change the world," said Pagotto.
Pagotto currently serves as the interim chancellor for Kapiʻolani CC in Honolulu, Hawaiʻi. She began her 30-year career at UH in 1988 at Leeward Community College as an English and English as a second language lecturer and instructor. Since 1989 at Kapiʻolani CC, Pagotto has served as assistant dean for vocational and distance education, department chair of language arts and assistant dean for arts and sciences and the Center for Excellence in Learning, Teaching and Technology. She then served as vice chancellor for academic affairs for 12 years until her appointment as interim chancellor in 2016.
Pagotto has more than 36 years of experience in higher education as a faculty member and administrator, as well as in lower education in Papua New Guinea. Pagotto's long-term connection with UH began when she was an international student at UH Mānoa in 1980. Her doctorate in linguistics was awarded in December 1987, with her dissertation on the verb morphology of Marshallese, a Micronesian language spoken in the Marshall Islands. She earned a master of arts in linguistics from McGill University in Montreal, Quebec, Canada in 1981, a teaching English as a second language diploma from the University of Papua New Guinea, in Port Moresby, Papua New Guinea in 1976, and a bachelor of arts in English with concentration in applied linguistics from Marianopolis College, Université de Montréal in Quebec, Canada in 1971.
Pagotto's role as an educator extends to the community beyond the campus as a coordinator for the Wo Learning Champions, a professional development initiative for faculty and staff. Her support for leadership included serving as a board member of the Community Colleges Leadership Development Initiatives Foundation. She has chaired the UH Commission on the Status of Women and the Women Leaders in Higher Education.