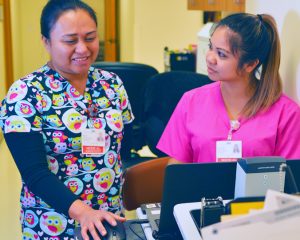 The demand for medical assistants in Hawaiʻi is growing and Kauaʻi Community College's effort to meet that demand has garnered national recognition and respect. According to the University of Hawaiʻi Community Colleges' Hawaiʻi Industry Sectors website, medical assisting jobs are projected to rise to 3,500 in 2027 from 3,169 in 2017. The newly accredited medical assisting program at Kauaʻi Community College will help to fill those jobs.
Victoria Mathis, who holds a doctorate of nursing science from University of Hawaiʻi at Mānoa and is a certified advanced practice registered nurse, has been the program's coordinator since its founding six years ago.
"I realized that there was a shift in healthcare. There are hardly any nurses [in the clinic] now, they're all medical assistants," said Mathis. "We're not producing them on island, and trying to get people to move here is impossible. So I created the program because there was a massive community need to have trained medical assistants on Kauaʻi."
During their final semester, medical assisting students work at Kauaʻi Medical Clinic, where they are responsible for assisting physicians and handling office work. They are often interviewed by the clinic and frequently hired on the spot.
"The Monday after graduation for the last two years, they've had jobs. And I'm expecting something similar this year," said Mathis.
The program received initial accreditation from the Commission on Accreditation of Allied Health Education Programs in January 2018. Accreditation allows Kauaʻi CC students to sit for the certified medical assistant exam. In addition, by the end of this semester, they will be able to earn a certificate of achievement from Kauaʻi CC.
"Accreditation is like a seal of approval," said Kauaʻi CC Director of Institutional Effectiveness Valerie Barko. "It means that the program offers a quality education that meets the standards of the occupation. For medical assisting, it also means that graduates are eligible to sit for the certified medical assistant exam offered through the certifying board of the American Association of Medical Assistants. Only graduates from an accredited program are eligible to take this exam. Certification provides many benefits such as expanded employment opportunities and higher salaries."
Chancellor Helen Cox said, "We are very excited about having our medical assisting program nationally accredited. This speaks to the quality of the program and assures students that they are getting relevant education for the workplace. This program offers a wonderful opportunity for students who desire to work in the health field who want an alternative to completing the nursing program."
In 2016, graduation and employer satisfaction rates for Kauaʻi CC's medical assisting program students were 100 percent, and that number is expected to hold for the classes of 2017 and 2018.