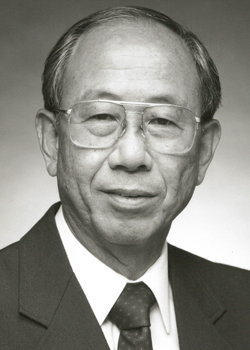 Donald C. W. Kim, chairman and CEO of AMKOR A&E Inc. and chairman of the Ohana Pacific Bank board of directors, died March 27. Kim was a passionate and active alumnus of the University of Hawaiʻi.
After earning his bachelor of science degree in civil engineering from the UH Mānoa College of Engineering in 1958, Kim worked for R.M. Towill, one of Hawaiʻi's largest and oldest civil engineering firms. He became president in 1978, then chairman and CEO in 1981, retiring in 2000.
A dedicated UH supporter, Kim served on the UH Board of Regents from 1997 to 2001 and chaired the board from 1998 to 2000. He was also a two-term UH Foundation trustee from 1991 to 1997 and UH Alumni Association president from 1994 to 1995.
In 1990, Kim was honored with the UH Alumni Association Distinguished Alumni Award, and in 2008 he was presented the College of Engineering Dean's Centennial Award.
Kim and his wife established the Donald C.W. Kim Multimedia Laboratory in 1999, a state-of-the-art student computer lab, at the College of Engineering.
"Donald was a distinguished alumnus of UH and, as a very successful businessman and engineer, he made it a point to give back," said UH President David Lassner. "He was a generous donor who supported the college that provided him his education."
Kim is survived by wife Iris Kyong Ok, sons Rex (Suzanne) and Dean (Ann), and grandchildren Sophia, Ryan, Isabelle and Bryce.
Learn more about Kim at the Honolulu Star Advertiser.