University of Hawaiʻi at Mānoa needs the community's help in creating a better, more intuitive campus. UH Mānoa is asking for feedback on the buildings, grounds and overall experience at the Mānoa Campus: Framework for the Future website.
The website outlines the vision and process for the design of the UH Mānoa campus. It gives the people who best know the campus—the students, faculty, staff and alumni—an opportunity to participate in the capital improvement process.
Community members are encouraged to share their thoughts on specific campus locations with the new map-based feedback tool. The feedback forum hopes to establish how people use the campus and identify what areas of campus may be in need of improvement to better enhance the overall educational experience for the campus community.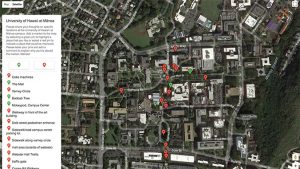 Participants can add a marker to the map by selecting a green pin to highlight a place that they like or select a red pin to indicate a place that could be improved. Viewers can label and add comments to their pins.
The forum is designed to collect general feedback as well as answers to a question of the month that will give the community even more opportunities to participate in the campus improvement process.
The Mānoa Campus: Framework for the Future Plan consists of (1) developing goals, objectives and guiding principles that align with the university's core values to help shape the overall campus plan, (2) developing physical planning strategies that build on quantitative assessments of campus space use, and (3) defining and prioritizing key projects that will be outcome-specific and occur within zones throughout the campus.
​