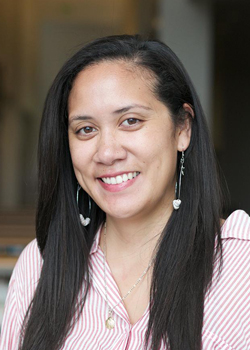 Moanaoalii Toomalatai is getting more than three hours of sleep each night and that bothers her.
"I'm getting five hours of sleep now and I feel very unproductive," said Toomalatai, who for many years averaged 3 to 5 hours of sleep while taking up to 24 credits a semester and working three jobs up to 10 hours a day.
At the University of Hawaiʻi–West Oʻahu's commencement on May 5, Toomalatai (who will serve as co-emcee) will graduate with a bachelor of arts in business administration with dual concentrations in accounting and management. It's been a long journey for the Associated Students of the UH West Oʻahu vice president, who has a 3.91 grade point average.
"There has been a lot that went on in my eight-year collegiate career," said Toomalatai, alluding to a college journey unlike many of her peers. Toomalatai's educational road to her associate's and bachelor's degrees included helping her family both emotionally and financially after her mother was stricken with cancer; undergoing back surgery at 19, after medications, physical therapy and back injections didn't relieve her crippling pain; and a long and complicated financial road that may have caused others to give up on a dream of a four-year degree.
Making things tougher—Toomalatai had vowed not to use student loans to attend college, yet getting a four-year degree remained a non-negotiable goal. Thus began Toomalatai's higher education odyssey—some semesters she would attend school; others she would be working to support the family and save money to return to campus. It wasn't a traditional path, and it sometimes hurt knowing high school friends were graduating while her degree was still years in the making.
Now that she is graduating, Toomalatai's new objective besides becoming a CPA—"My goal is to have just one job."
Read more about Toomalatai at UH West Oʻahuʻs E Kamakani Hou, including how she impressed Professor Franklin T. Kudo, her friendships with a grandmother and a recent high school graduate, and her guilty pleasure—Korean TV dramas.
—By Greg Wiles