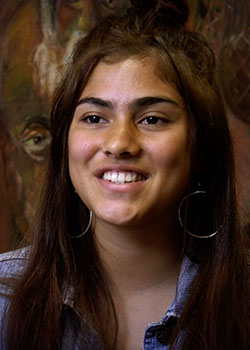 Taye Mowat is a busy Molokaʻi High School junior, who is also taking a college course this semester: English 100. She admits, it was nerve-wracking at first.
"I was kind of like, I don't know if I can handle sports and school, plus a college class. I like it though," said Mowat.
"We do a lot of essays and writing, learning grammar a little more in college, so I can see my improvement in writing essays."
Mowat is one of about 20 Native Hawaiian students at Molokaʻi High participating in the Hoʻokele Program, a partnership between the University of Hawaiʻi Maui College Molokaʻi Education Center, Kamehameha Schools, and Molokaʻi High. The dual credit program pays for tuition, fees and books, and students earn both college and high school credits.
"We hope to expose kids now, while in high school, to college," said Hoʻokele Program Coordinator Kalei Adolpho, "And once you get the first couple of classes down, we are hoping that theyʻll just take off from there."
Earning college credits in high school makes higher education more affordable, while more importantly, gives students confidence that they can succeed in college.
"In high school, they'll get on your case to turn in your work but college, it's all up to you. So I'm glad I got that experience," said Mowat.