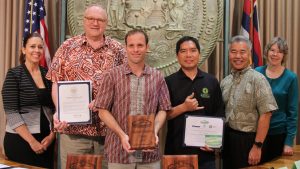 Windward Community College and the University of Hawaiʻi's 5th Annual Sustainability Summit were among the organizations recognized by Governor David Ige at this year's Hawaiʻi Green Business Program Awards. The awards, hosted by the Department of Business, Economic Development and Tourism's (DBEDT) Hawaiʻi State Energy Office, highlight innovative solutions to going green.
"The recipients of the Hawaiʻi Green Business Program awards have demonstrated that becoming greener and more sustainable not only benefits our environment, it makes good business sense," Governor David Ige said. "And by working to reduce Hawaiʻi's reliance on imported fossil fuels, they are also helping us reach our clean energy goals," he said.
The Hawaiʻi Green Business Program said the following about the UH awardees:
Windward Community College developed a sustainability plan around five areas: operations, curriculum, research, cultural connections and community outreach. This plan, implemented by a Campus Sustainability Committee composed of faculty, staff, and student members, supported retrofitting and energy management projects that allowed the campus to realize a 24 percent reduction in overall power consumption, a 25 percent reduction in HECO power usage, and the implementation of PV panels generating 0.5 percent of the total power usage since 2008.
University of

Hawaiʻi

's 5th Annual Sustainability Summit created an opportunity for delegates from all 10 campuses of the University of

Hawaiʻi

to gather and celebrate successes, learn from each other, and advance progress on strategic sustainability efforts from year to year. The event strived to achieve zero waste and minimize its environmental impact by, locally sourcing more than 90 percent of its food, distributing reusable bamboo sporks to eliminate single-use utensils, composting food waste, livestreaming sessions to minimize travel-related emissions and much more.
"We are inspired by the efforts of Windward CC and the event organizers of the 5th Annual Sustainability in Higher Education Summit to hold themselves to a higher standard of environmental performance and sustainability by pursuing DBEDT's Green Business and Green Events Awards," said Matthew K. Lynch, UH System sustainability coordinator. "These exemplary efforts provide models for other campuses and events to adapt and apply so that we can collectively maximize our positive impact on our natural environments and the communities we serve."
"The Green Business Program provides a great set of practical guidelines and practices to make Windward Community College more sustainable. In order to achieve the award we worked on everything from labeling storm drains, improving our recycling efforts, and printing double-sided paper," said Christian Palmer, Windward CC Sustainability Committee chair. "In addition, Windward had already been working on a long-term strategy to reduce energy consumption, so everything came together really well."
A total of 26 businesses, organizations and events were recognized for undertaking energy efficiency and sustainable business practices that will help their bottom line while advancing Hawaiʻi's clean energy goals.
Read the DBEDT news release for more about the awards and awardees.