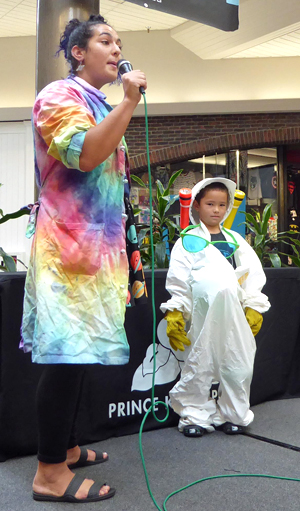 Despite the natural events dominating the news on the Big Island, the 17th annual AstroDay celebration went on as planned in Hilo. One day after the startling 6.9 magnitude earthquake and the outbreak of numerous volcanic eruptions in the Puna area, the Prince Kūhiō Plaza was alive with dozens of science and community organizations sharing fun science demos and activities.
"We felt it was important to deliver this event, which is something Big Island families look forward to every year," said Carolyn Kaichi, organizer for AstroDay and member of the Maunakea Astronomy Outreach Committee that sponsors the event. "Only two organizations could not attend, and that's because they were part of essential utility and emergency services that were called into duty."
Hundreds of children, families and the public attended AstroDay, a free event showcasing science, engineering and robotics. Volunteers from the observatories of Maunakea, Haleakalā, and Mauna Loa staffed tables throughout the mall. Also featured were cool robots from Hilo High and Keaʻau High school teams, as well as a 3D printer operated by students from Connections Public Charter School.
The University of Hawaiʻi at Hilo Daniel K. Inouye College of Pharmacy, Hawaiʻi Police Department Crime Lab, the Pacific Tsunami Museum and the UH Hilo Center for the Study of Active Volcanoes brought some down-to-earth science activities and applications that balanced the astronomical theme of the day.
"AstroDay is a celebration we look forward to every year," said JD Armstrong from the UH Institute for Astronomy on Maui. "Everyone who attends learns something new and exciting in science."