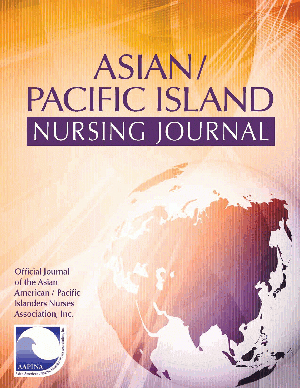 University of Hawaiʻi Press now distributes the digital open-access journal, Asian/Pacific Island Nursing Journal. This is the only journal focused specifically on health and healthcare of and for this population.
The journal features research papers, empirical and theoretical articles, editorials, abstracts of recent dissertations and conference summaries that relate to nursing care written by scientists and researchers in nursing and the basic and social sciences.
Asian/Pacific Island Nursing Journal is published by the Asian American/Pacific Islander Nurses Association, Inc. (AAPINA) and edited by Jillian Inouye at the UH Mānoa School of Nursing and Dental Hygiene.
"We are pleased to assist AAPINA in the production and distribution of this important open-access journal," said Joel Cosseboom, UH Press interim director.
The complete content of the journal is freely available online.
The Asian/Pacific Island Nursing Journal joins UH Press's extensive list of Hawaiian and Pacific Island studies titles, including The Hawaiian Journal of History, The Contemporary Pacific and Pacific Science. The journal also joins three other peer-reviewed, open-access journal offerings: Language Documentation and Conservation, Palapala: a journal for Hawaiian language and literature and the Journal of the Southeast Asian Linguistics Society.