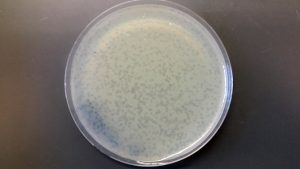 A new program in the College of Natural Sciences at the University of Hawaiʻi at Mānoa provides students science education through discovery-based research experiences in the classroom. SEA–PHAGES (Science Education Alliance-Phage Hunters Advancing Genomics and Evolutionary Science) is designed to increase participation and retention of students in science, technology, engineering and math (STEM) fields, and is sponsored by the Howard Hughes Medical Institute (HHMI).
Viruses are abundant in the environment and many do not cause diseases in humans, yet there is still much to learn about them. Through this two-semester program, students have the opportunity to survey the unknown microscopic diversity and directly contribute to the knowledge of microbes around the world. Students will collect soil samples and use cutting edge molecular and microbiology techniques to find new viruses from Hawaiʻi. After genetically sequencing these viral isolates, students will use genome-annotation and bioinformatic analyses to characterize and eventually name their newly discovered microbes.
"We are very pleased to receive this support from HHMI to incorporate the SEA–PHAGES project into our introductory biology courses," said Aloysius Helminck, dean of the College of Natural Sciences at UH Mānoa. "This will be an exciting step in the college's ongoing effort to inject active learning, and especially hands-on research experience, into our entire curriculum."
More about the SEA–PHAGES program
The SEA–PHAGES team consists of several faculty from the College of Natural Sciences, including Rebecca Chong, Megan Porter and Floyd Reed from the Department of Biology, and Stuart Donachie from the Department of Microbiology.
This program is part of a large initiative led by HHMI's Science Education Alliance, which works with faculty and universities from around the nation to increase undergraduate interest and retention in the biological sciences through research-based curricula early in their academic careers. Students will work closely with faculty and experience immediate immersion in authentic, valuable yet accessible research while pursuing their education in STEM disciplines.
The first cohort of students can sign up for the program by registering for one of two First-Year ACE Learning Communities dedicated to the SEA–PHAGES program.