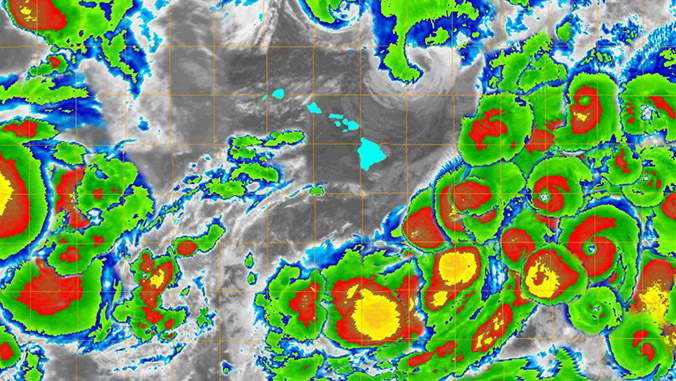 The National Weather Service is projecting three to six tropical cyclones in the Central Pacific in 2018. The outlook indicates equal chances of an above-normal and near-normal season at 40 percent each, and a 20-percent chance of a below-normal season.
Hurricane season in Hawaiʻi occurs roughly between June 1 and November 30. While hurricanes typically develop during this timeframe, and our islands usually have several days of advance warning, adverse weather conditions can occur suddenly and with relatively little notice.
When the threat of severe storm occurs, university officials will monitor the situation and provide guidance on safety measures and, if necessary, suspend university operations and limit travel in affected areas.
Stay informed
University of Hawaiʻi students, faculty and staff are encouraged to sign up for UH Alert to be informed via text message about emergency situations affecting our 10 campuses.
Notifications affecting UH campuses will be posted on the Emergency Information webpage.
The Pacific Disaster Center (PDC), managed by UH, provides updated information on hazards happening across the State of Hawaiʻi and around the world. For the latest information on hazards, access PDC's Disaster Alert Application on the web, or download PPDC's free mobile Disaster Alert App from the iTunes or Google Play store.
Be prepared
A good starting point for emergency preparation is to download UH Sea Grant's Homeowner's Handbook to Prepare for Natural Hazards.
The Hawaiʻi Emergency Management Agency recommends residents and visitors take the following actions to prepare for any possible hurricane or tropical cyclone:
Talk with family members about what you plan to do if a hurricane or tropical storm threatens you. Make an action plan that includes details such as whether or not your family plans to evacuate.
Walk your property and check for potential flood threats. If time and conditions permit, clear your gutters and other drainage systems.
Identify small outdoor items that could be picked up by high winds. Make a plan to bring these items indoors if a hurricane/tropical storm watch or warning is issued.
Prepare pets by checking or purchasing a carrier and other preparedness items. A pet carrier is necessary for your pet's safety if you plan to evacuate to a pet-friendly shelter. Don't forget seven days of food and water for your furry family members.
Set aside an emergency supply of any needed medication and keep a copy of your prescriptions in case you run out of medication after a disaster.
Visitors should read the

Hawaiʻi

Tourism Authority's Travel Safety Tips.