A live bee hive was the featured attraction for more than 300 attendees at Oʻahu Urban Garden Center's Second Saturday event in Pearl City on June 9. The Bee Hui, a group of trained volunteers who raise bees at the center and provide community education about bees' and other pollinators' essential services, were on hand to show the insects up close. Honey tastings were provided, and visitors could see how honey is extracted and the tools used for honeybee hive maintenance.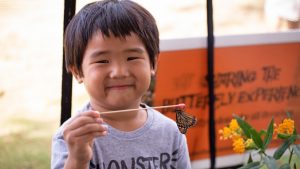 "We came today because it is a good learning experience for my daughter," said Carla Salinas of ʻEwa Beach.
"I made a butterfly pin and tasted honey. Bees make honey!" chimed in five-year-old Isabella Salinas.
Paul Krushelnycky, from the University of Hawaiʻi at Mānoa College of Tropical Agriculture and Human Resources (CTAHR), shared information on Hawaiian yellow-faced bees, Hawaiʻi's only native bee, which is seen mostly in high elevations. CTAHR's Christina Mogren introduced guests to the life cycle of bees by making bee hotels. A bee's life cycle evolves from egg to larva to pupa and, finally, to adult in 21 days.
UH master gardeners displayed information about least toxic pesticides for the backyard. Visitors learned that the time of application is important, such as the evening when pollinators are not active. They also learned about integrating pest management practices like creating a balance of good bugs and bad bugs in the backyard.
"The pollinator event provides fun and informative educational activities to alert Hawaiʻi homeowners to the insects that pollinate their home gardens such as honeybees, carpenter bees and butterflies, and to the native pollinators found only in Hawaiʻi's ecosystems," said UH Master Gardener Jody Smith.
The event was presented by UH Master Gardeners, an official educational outreach and volunteer program of UH CTAHR's Cooperative Extension Service. UH Master Gardeners are volunteers who share local, research-based information with the gardening public to promote sound decisions in Hawaiʻi's backyards and school gardens.