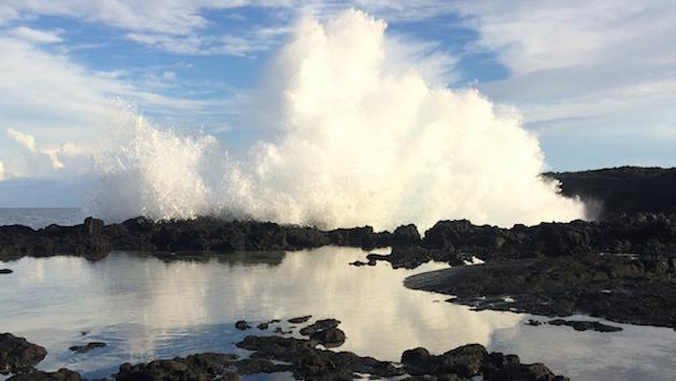 The Pacific Islands Ocean Observing System (PacIOOS) at the University of Hawaiʻi at Mānoa has been awarded nearly $500,000 in grant funding to enhance public safety through atmospheric and wave forecasts for the Pacific Island territories of Guam, Commonwealth of the Northern Mariana Islands (CNMI) and American Samoa.
During the three-year project funded by the U.S. Department of the Interior Office of Insular Affairs' Technical Assistance Program, PacIOOS will improve and validate the existing suite of atmospheric forecasts for the three territories. It will also develop new high-resolution wave forecasts for Saipan, Tinian and Rota in the CNMI and for the Manuʻa Islands in American Samoa.
Impacts from the most recent tropical cyclones in American Samoa and typhoons in Guam and CNMI are stark reminders of the importance of near-term wind, rain and wave forecasts for these island communities. Providing NOAA's National Weather Service field offices with additional tools increases forecasting capabilities and results in more accurate forecasts, advisories and warnings for residents and visitors of Guam, CNMI and American Samoa.
"We are extremely grateful for the support from the Office of Insular Affairs to improve PacIOOS' forecasts for the territories," said Director Melissa Iwamoto. "Reliable forecasts are essential to empower insular communities to make proactive decisions. Increased preparedness helps increase public safety."
For more information on the grant, see the PacIOOS website.
—By Fiona Langenberger