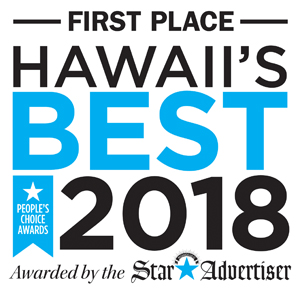 Multiple University of Hawaiʻi campuses have been recognized for their excellence by the Honolulu Star-Advertiser's Hawaiʻi's People's Choice "Best of" Awards.
The 2018 honors included:
"It's gratifying to have readers of the state's largest daily newspaper recognize their public institutions of higher education as the best," said UH President and Interim UH Mānoa Chancellor David Lassner. "I thank the dedicated faculty and staff who are committed to excellence at every campus of the University of Hawaiʻi."
The Hawaiʻi's Best Awards are chosen each year by the readers of the Honolulu Star-Advertiser. More than 100 categories are included in this year's publication, which was released on June 17, 2018. This was the fourth year in a row that Leeward CC received recognition in two categories.
Leeward Chancellor Manny Cabral said, "I'm so proud of winning these awards for four years in a row! Our workforce development continues to expand in both credit and non-credit areas. Being selected as Hawaiʻi's Best is a reflection of the dedication and hard work of everyone at the college. We're also thrilled for the finalist award for our theatre, which is currently in the final stages of renovation."