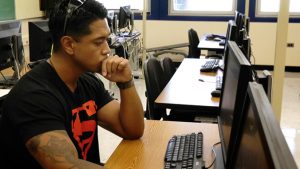 Honolulu Community College student ʻAukai Rieman was among the approximately 1,500 University of Hawaiʻi community college students who benefitted from Hawaiʻi Promise scholarships over the last academic year.
The scholarship helped the Hawaiian studies major with his substantial daily transportation costs from Nānākuli to the Kalihi campus.
"It was great. It was fantastic," said Rieman. "It's money I didn't have to worry about paying back, and it covered my travel expenses here, which…is kind of really high."
Big Island native Kelley Caitano, who is studying Computer Electronics and Networking Technologies at Honolulu CC, was also a Hawaiʻi Promise beneficiary.
"My Hawaiʻi Promise award was $1,400, $700 each semester, and for each semester I used it for mostly food and whatever extra expenses I needed. My books were kind of expensive, so I ended up buying books or tools that I needed (in order) to take apart or repair laptops or computers," Caitano said.
With more funding for the "last dollar" Hawaiʻi Promise scholarships available at the seven UH community college campuses statewide for the 2018–19 academic year, Rieman and Caitano encourage prospective students to apply to a UH community college and fill out the Free Application for Federal Student Aid (FAFSA).
Said Rieman, "It was awesome. It helped me get here which is like the biggest thing because if you don't attend class, you can't pass. Hawaiʻi Promise—definitely did wonders for me."
—By Kelli Trifonovitch