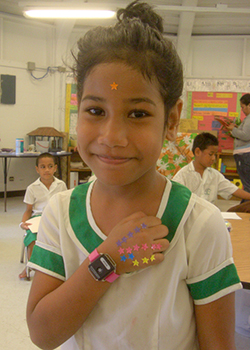 A University of Hawaiʻi led program that has decreased the prevalence of obesity in the Pacific has been awarded a Center of Excellence designation and $2.126 million in supplemental funding from USDA's National Institute of Food and Agriculture (NIFA).
The Children's Healthy Living (CHL) Program for Remote Underserved Minority Populations in the Pacific Region, headed by the UH Mānoa College of Tropical Agriculture and Human Resources (CTAHR) Professor Rachel Novotny, received the funding through 2021. In 2011, CHL was awarded a competitive grant of $25 million over five years from NIFA to monitor, develop and test community-based approaches to decrease the level of childhood obesity and diabetes-related disease in the U.S. Pacific, and to provide training and other outreach.
"We look forward to working with our partners to continue expanding our network to fundamentally change policies, systems and environments to ensure child wellness together," Novotny said.
The project works with public and private partners in Hawaiʻi, Alaska, American Samoa, Commonwealth of the Northern Mariana Islands, Guam, Federated States of Micronesia, Republic of Palau and Republic of the Marshall Islands. These regions are not surveyed by the Centers for Disease Control and Prevention in its national program to monitor health and nutrition, and thus limited data existed about these areas prior to the program's inception.
CHL data confirmed that Pacific jurisdictions are some of the most obese countries in the world, and that the health issue is growing among children as well as the adults in the region. Undernutrition is also a problem in the same areas.
Center of Excellence
Via its new designation as a Center of Excellence and with the new funding, the program can further build capacity and generate new knowledge on child health in partnering communities. It will expand its distance education courses through curricular tools such as a place-based Pacific-focused Open Education Resource textbook and will offer a Certificate in Child Health. It will also develop continuing education training opportunities appropriate for health professionals in the region.
The CHL program has been working to reverse the trend of unhealthy eating and diet-related disease through community-based partnership efforts that range from encouraging children to try healthier local foods and having them grow produce in school gardens to creating more built environments for active play.
Part of the original $25 million in funding was used to fund college scholarships for undergraduate and graduate study in Pacific area universities, and to train these students in their home communities.
—By Frederkia Bain