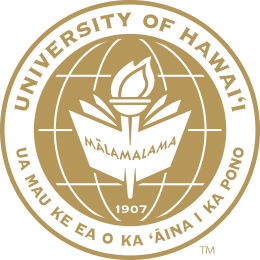 As a matter of equity and diversity, the University of Hawaiʻi stands committed to ensuring that campus computing and information resources are accessible to disabled students, faculty and staff. Accessibility of our services has been a longstanding requirement under Section 504 of the Rehabilitation Act of 1973, and Title II of the Americans with Disabilities Act of 1990; web accessibility standards are newer, but part of our accessibility obligations and commitment.
Voluntary Resolution Agreement
In the context of an examination of our compliance across the UH System, on May 15, 2018, UH entered into a voluntary resolution agreement (VRA) with the Office for Civil Rights (OCR) of the U.S. Department of Education. The full text of the VRA is available at https://www.hawaii.edu/access/uhvra.html. Additional information relating to our compliance efforts, including current guidelines, will be available at https://www.hawaii.edu/access/resources/vra/ and will be continually updated there.
The following summarizes key provisions, all of which are consistent with existing federal law.
New Online Content and Functionality. UH agrees that by May 1, 2019, it will establish a plan to ensure that all new online content and functionality developed, procured, or used after the date of this agreement will be fully accessible to individuals with disabilities. The plan will include any staff training that may be necessary.
Current Online Content and Functionality. UH agrees that by May 3, 2021, it will: develop a strategy for identifying inaccessible content and functionality for individuals with disabilities; provide notice to persons with disabilities regarding how to request access to online information or functionality; and, develop a process to ensure that, upon request, inaccessible content and functionality will be made accessible in an expedient manner.
Undue Burden and Fundamental Alteration. The agreement does not require UH to take any action that it can demonstrate would result in a fundamental alteration in the nature of a service, program or activity, or in undue financial and administrative burdens. In those circumstances where UH demonstrates that compliance would result in such an alteration or burden, UH will ensure that, to the maximum extent possible, individuals with disabilities receive the benefits or services provided by UH.
The VRA includes definitions, reporting requirements and other related provisions.
Compliance Steps Underway
UH Information Technology Services (ITS) is the technical lead for the UH System in establishing the required guidelines, training, outreach, and ensuring the availability of necessary assessment and remediation tools to support the above requirements across the university system. Work completed to date and planned includes:
New Online Content and Functionality. ITS has begun work with an initial group of representative content creators, including the UH Mānoa Center for Disabilities Studies (CDS), to draft guidelines for the creation of new online content, including recommended training and tools for producing accessible content that will be acquired by the UH System for use across all campuses. ITS and CDS have been working to test and refine some of the content creation training to be provided across all campuses.
Current Online Content and Functionality. ITS has completed procurement of an unrestricted use, systemwide license for the SiteImprove tool, to support the identification and diagnosis of web content that is not compliant with applicable accessibility guidelines. SiteImprove is now being configured so that all campuses will have access to the tool to provide accessibility assessments for all faculty and staff. In addition to providing diagnostics to identify non-compliance issues with online content, the SiteImprove tool will help UH responsibly monitor overall compliance efforts.
ITS will establish both in-house and external resources to assist campuses in their compliance efforts. ITS and Office of General Council (OGC) will coordinate any requests for technical assistance from OCR, and the submittal of all reports required under the VRA.
Once the tools, training, and resource requirements are identified, chancellors will be consulted on the best method to resource and finance the costs necessary to ensure compliance with federal law, in accord with the VRA commitments.
What You Can Do Starting Now
UH must approach our compliance with the law and the VRA in a systematic manner. It is not necessary to immediately remove all non-compliant content at this time, nor should individuals issue their own unauthorized interpretations of the law or the VRA to their colleagues without first checking with ITS and OGC.
We are aware from preliminary reviews that the most common causes of non-compliant online sites are the use within web sites of PDF files that cannot be read by screen reading software, the failure to "tag" images, and the use of uncaptioned videos. Many of these have straightforward remedies available. Tools and approaches will be identified and made available as part of our work to establish the plan for new online content as well as existing content, and to provide support across the UH system.
In the meantime, anyone who is creating or updating web content can take the following easy steps to ensure that their web content is accessible:
When creating content from Microsoft Office, use the built-in Accessibility Checker (included in Office 2013 and 2016) to find and address accessibility issues. See more tips on creating accessible documents.
Be sure that all images and graphics included on websites are tagged with alternate text, and videos inserted into web content are properly captioned.
Any questions relating to our plans and next steps may be directed to the Vice President for Information Technology and Chief Information Officer at (808) 956-3501 or via e-mail at gyoshimi@hawaii.edu.