University of Hawaiʻi Cancer Center researchers, staff, leadership and donors, along with state lawmakers and other supporters, celebrated the center's National Cancer Institute (NCI) designation renewal on July 14. Presentations by UH Cancer Center scientists on their ongoing discoveries and research projects were the focus of the event held at the center. The NCI designation renewal was officially announced July 3 as the UH Cancer Center retains its status as being one of only 70 NCI-Designated Cancer Centers out of more than 1,000 cancer centers across the country.
"We are extremely honored to be the only NCI-Designated Cancer Center in the Pacific," said UH Cancer Center Director Randall Holcombe at the celebration. "One that has a really unique focus on the cancer problems that affect us here in Hawaiʻi."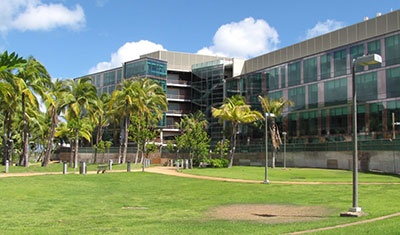 NCI-Designated Cancer Centers must go through rigorous and competitive renewal of their status every three to five years. The designation helps UH Cancer Center members bring in around $40 million per year in grants from the National Institutes of Health and other agencies to support research activities.
"With this designation, we can move forward even more strongly with a set of clinical programs that will really help translate the original research done here and elsewhere into improved cancer care for the people of Hawaiʻi and beyond," said UH President David Lassner, who was also in attendance.
Over the past five years, more than 1,600 people have participated in UH Cancer Center-sponsored clinical research studies, with topics ranging from how diet and the environment may influence the development of cancer, to novel treatment interventions for patients with advanced cancer.