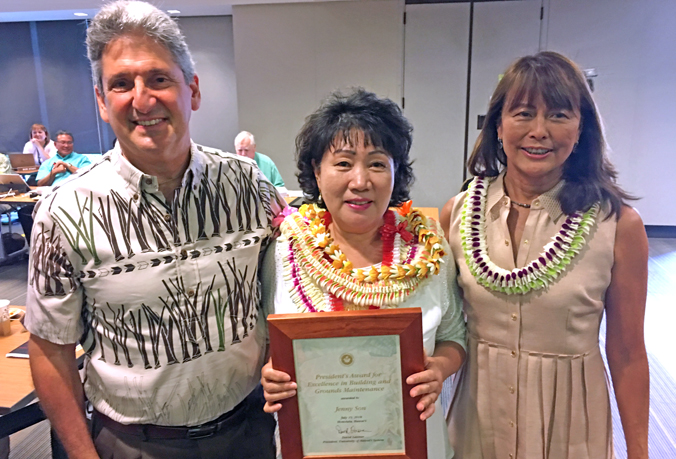 University of Hawaiʻi at Mānoa janitor Jenny Son has been honored with the UH President's Award for Excellence in Building and Grounds Maintenance. The award is given to an individual who has exhibited sustained superior performance in a maintenance, landscaping, custodial or trucking position.
According to many glowing accolades, Son, who works in the Queen Liliʻuokalani Center for Student Services (QLC) building, always goes above and beyond her required job responsibilities. She is committed to keeping a safe and spotless working environment for those in her offices.
Here's what her fans have to say:
"No office corner or door knob or air conditioning vent is safe from her. Ant infestations or mold outbreaks—no problem."
"This woman does not give up!"
"I never met a custodian so dedicated, so passionate and so meticulous as Jenny."
Son demonstrates aloha in all that she does and is always willing to lend a hand to her co-workers in other departments. Her cheerful disposition, bright smile and attention to detail make her a truly valued team player on the QLC fourth floor.