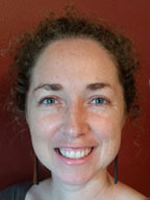 The American Association of University Women (AAUW) has awarded fellowships and grants to two University of Hawaiʻi at Mānoa students.
AAUW aims to tackle barriers that women face in education while promoting education and equity for women and girls. UH Mānoa graduate students Taylor Brack and Georgia Fredeluces earned the grants that will allow them to continue their studies and lead innovative community projects designed to empower women and girls.
"AAUW fellows and grantees have contributed so much to the world at large," said Kimberly Churches, chief executive officer of AAUW. "These trailblazers are breaking the mold in nontraditional fields and redefining what leadership and expertise look like. AAUW is proud to support them with the resources necessary to excel in their chosen fields."
Taylor Brack
Brack received a selected profession fellowship while she pursues a juris doctorate in Pacific-Asian legal studies and international law and immigration at the William S. Richardson School of Law. She interned with the Medical-Legal Partnership working on policy advocacy for the Micronesian community in Hawaiʻi. Her study focuses on unethical Marshallese adoptions, healthcare as a human right and immigration law.
Georgia Fredeluces
Fredeluces is pursuing her doctorate in biology and received an American fellowship. Her work integrates ecological, educational and ethnographic methods to support biocultural revitalization of Native American weaving traditions associated with beargrass. Fredeluces' goal is to become a professor with a focus on building university partnerships with tribal governments, plant gatherers and other resource managers.