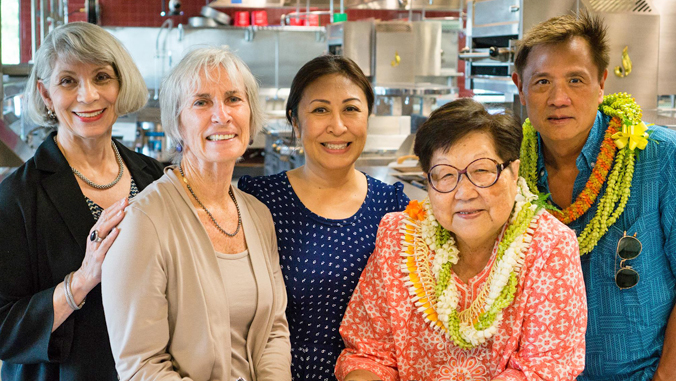 Alvin H.L. Chung pledged $100,000 to support the University of Hawaiʻi Culinary Institute of the Pacific (CIP) at Diamond Head. The Outdoor Terrace at the CIP Signature Restaurant will be named after the Tai Yau Chung Foundation and Alvin H.L. Chung, DDS.
"My family and I are so pleased to be making this gift to support the capital needs of the Culinary Institute of the Pacific. We are great proponents of both fine food and good nutrition, which we feel are keys to longevity and happiness," said Alvin Chung. "The culinary arts education throughout the UH Community Colleges has had many great successes. We are more than happy to help advance culinary education in Hawaiʻi which, in turn, will help our state continue to prosper."
A successful dentist, Chung has practiced in Hawaiʻi for 30 years. Passionate about the culinary experience in Hawaiʻi, he has been a supporting member of the Kapiʻolani Community College CIP Honorary Committee since 2000.
"The Culinary Institute of the Pacific holds the promise of educating generations of culinary professionals from Hawaiʻi and beyond," said Kapiʻolani CC Chancellor Louise Pagotto. "The state-of-the-art kitchen at CIP is all ready host to advanced culinary training, providing students and faculty with rich experiences in the exploration of culinary trends. Now, through the generosity of the Chung family, we are that much closer to realizing the dream of a signature restaurant at CIP."
Read more about the donation at the UH Foundation website.