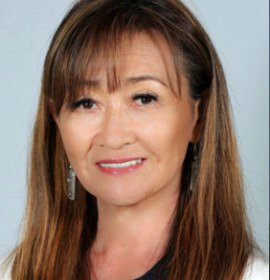 University of Hawaiʻi at Mānoa College of Education alumni Akeyo Garcia and Masaru Uchino have won the Presidential Award of Excellence in Mathematics and Science Teaching, the highest honor bestowed upon K–12 mathematics and science teachers by the U.S. government.
Garcia and Uchino were presented with a presidential citation at the nation's capital, and were each given $10,000 from the National Science Foundation. They were also invited to participate in discussions on STEM education while in Washington, D.C.
Akeyo Garcia
Garcia, who has been an early childhood educator for more than 20 years, earned a bachelor of education in elementary education, and a master of education in curriculum studies and early childhood education (ECE) at the College of Education. She recently served as a pre-kindergarten program director and teacher at Kamalani Academy charter school and will return to ʻEwa Elementary School to launch a pre-kindergarten program.
She has been honored with the Educator of Excellence in Our Community Award and the Kōkua Hawaiʻi Foundation Earth Action Projects Award. She is also the recipient of more than $50,000 in grants, one of which enabled her to purchase STEM materials for seven classrooms.
"Akeyo is an exceptional early childhood educator who provides leadership within and beyond her school," said ECE Program Director Robyn Chun. "A skillful, articulate and master teacher, she brings a passion and deep commitment in all of her endeavors to the young children, families and communities she serves."
Masaru Uchino
Uchino, who teaches third grade at Momilani Elementary School, earned his master of education in educational technology from the college's Department of Learning Design and Technology (LTEC). Leading his students through innovative science, technology, engineering, art and mathematics projects in and out of the classroom, Uchino infuses hands-on lessons with a deeper sense of meaning and community.
Uchino is a 2016–17 Milken Educator Award winner, a 2015 District Teacher of the Year and was a finalist for LTEC's Burniske Award for Outstanding Master's Project in 2011.
"While the award is well deserved, it is not surprising to us that Masa's innovative work is being recognized," said LTEC Chair Curtis Ho. "He was a very creative and energetic student in our master's program, and we are pleased to see one of our graduates continue to apply technology to engage students in meaningful learning."
To read more on Garcia and Uchino, read the full story on the College of Education website.