Two University of Hawaiʻi at Hilo graduate students in the tropical conservation biology and environmental science program were honored for their conservation biology research on the Hawaiian crow and the Hawaiian thrush at the Hawaiʻi Conservation Conference.
The conference gathered scientists, policymakers, conservation practitioners, educators, students and community members from Hawaiʻi and the Pacific to discuss conservation.
Geneviève Blanchet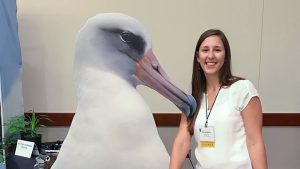 Blanchet received first place in outstanding graduate student oral presentation. Her research details the genetic diversity of the ʻalalā (Hawaiian crow) population, comparing early and late bottleneck developments to better understand the history, and inform captive population management of this critically-endangered species.
Blanchet is a member of UH Hilo's Conservation Genomics Research Group and specializes in avian conservation and genomics.
Koa Matsuoka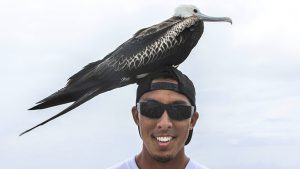 Matsuoka was awarded runner-up for outstanding graduate poster presentation for his research that examines the diet diversity of the native ʻōmaʻo (Hawaiian thrush), ʻalalā crow and other exotic birds to compare each species' effects on seed rain and seed germination of Hawaiian fruiting plants.
The data may inform resource managers of the impacts reintroducing native fruit-eating birds will have on the plant community in forests where they have been eliminated.
For more about the awardees, go to the UH Hilo news release or UH Hilo Stories.