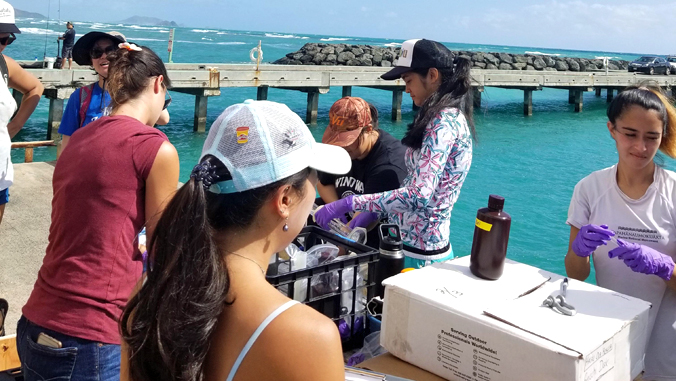 A new oceanography course is being offered this summer in the Department of Oceanography at the University of Hawaiʻi at Mānoa School of Ocean and Earth Science and Technology (SOEST). SOEST Mauka to Makai is a six-week bridge program that goes beyond the usual lectures and laboratory activities to include tutorials, coastal cruises and service-learning activities.
Funded as part of an award from the National Science Foundation Tribal Colleges and Universities Program to students at Windward Community College, Honolulu Community College, Kauaʻi Community College and UH Mānoa, this fresh approach aims to provide hands-on learning in the natural environment. A unique aspect of the course is its connection with community groups involved in the preservation and restoration of traditional Hawaiian resource management practices in watersheds and coastal waters of Oʻahu.
Students from UH community colleges with an interest in science and solid academic records, who are interested in coming to UH Mānoa for a four-year degree in the geosciences, were encouraged to apply for the course. This summer, 11 students representing Honolulu, Kauaʻi, Leeward and Windward CCs are enrolled.
"This course is different from the typical introductory oceanography class in that it has been restructured to be place-based, exposing the students to specific challenges being faced by communities across Oʻahu and the local organizations that are tackling them," said Margaret McManus, co-principal investigator and oceanography professor.
The course involves faculty from across SOEST, enabling students to interact with researchers in a broad array of geoscience-related disciplines and allowing students to see first-hand the real-life application of the research being carried out at this institution.
Tapping into
Hawaiʻi

's local talent pool

"This course is part of an overall effort to create more pathways between the UH community colleges and UH Mānoa in the geosciences (atmospheric science, environmental science, geology, oceanography), with the end goal of having more underrepresented minorities in the geosciences graduate with geoscience-related degrees," said Michael Guidry, co-principal investigator for the course and chair of the SOEST Global Environmental Sciences program.

"Native Hawaiians and other ethnic minority groups, including Pacific Islanders, Filipinos, Hispanics, African Americans and Native Americans, are underrepresented at both the undergraduate and graduate levels in SOEST," said Rosie Alegado, co-principal investigator and assistant professor in SOEST oceanography and University of Hawaiʻi Sea Grant College Program. "In an effort to tap into Hawaiʻi's local talent pool, SOEST is actively partnering with community colleges to recruit kamaʻāina students into our degree programs."

The overarching goal of these partnerships is to foster a transfer pathway from the community colleges to geoscience degree programs at UH Mānoa, with a focus on Native Hawaiian and other underrepresented students. The natural pathway from the community colleges in the UH system to UH Mānoa facilitates administrative collaboration and student transfer.

The National Science Foundation Tribal Colleges and Universities Program grant covers summer tuition and associated fees, six weeks of room and board on the Mānoa campus and a stipend for the participating students. The SOEST Mauka to Makai course will be offered each summer for the next three years as a pilot program.

—By Marcie Grabowski