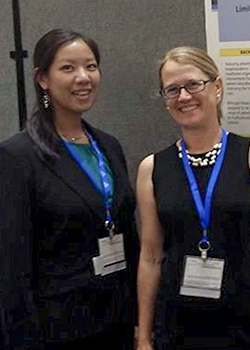 Understanding healthcare terminology is critical to patient education and engagement, but healthcare vocabulary that may be familiar to clinicians and researchers is often not understood, or is misunderstood, by patients.
In a study recently published in the Maternal and Child Health Journal, University of Hawaiʻi at Mānoa public health researchers found a lack of understanding of common obstetric terms used to measure maternal healthcare quality among women who recently gave birth on Oʻahu.
"Our research team interviewed 400 pregnant women to learn about their thought process and experiences in selecting a hospital to deliver their babies. We also assessed their understanding of terms often used to compare hospital quality in childbirth," said Mary Guo, lead author and alumna of the UH Mānoa Office of Public Health Studies (OPHS) graduate program. "Our data showed that many women lacked understanding of some very important terminology around childbirth outcomes."
The interviews took place between July 2013 and January 2015.
In one example, the research team found that almost 40 percent of participants did not know or misunderstood "episiotomy," which is a surgical incision made during delivery, as opposed to a natural tear. Possible complications for women following an episiotomy include infections, pain during sex in the months after delivery and fecal incontinence.
Most women are likely to care about such obstetric outcomes, but first need to know what these words mean. Some demographic factors were significantly associated with less comprehension of obstetric terminology, including being younger, having less education and identifying as Filipino, Japanese, Native Hawaiian or other Pacific Islander.
"The finding that many women were unfamiliar with important terminology around quality of healthcare in childbirth is significant. This highlights areas where improvement in patient education is needed," said Tetine Sentell, co-author and associate professor in OPHS. "More efforts are also needed to address knowledge gaps to achieve health equity across education, age and race/ethnicity."
For example, Sentell said physicians should use layman's terms when communicating with patients. Also, healthcare providers should not assume that patients who nod in response or remain silent fully understand the relevant health information being conveyed.
Actively confirming patient understanding is important, Sentell emphasized.
The study was funded by the Agency for Healthcare Research and Quality.
—By Theresa Kreif