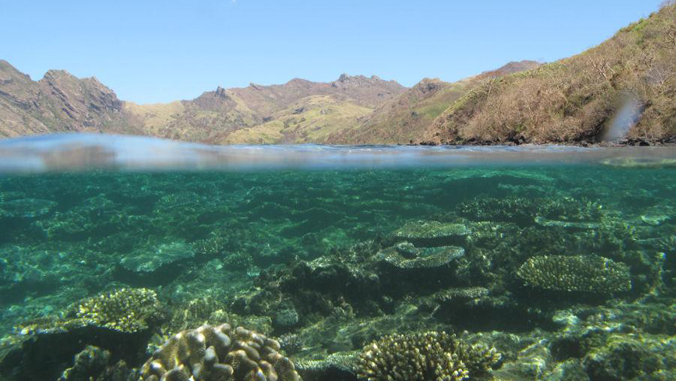 Researchers from the University of Hawaiʻi at Mānoa and Wildlife Conservation Society are discovering how forest conservation in Fiji can minimize the impact of human activities on coral reefs and their fish populations. Reef degradation directly affects food security, human well–being and cultural practices in tropical island communities around the world.
Authors of a newly published study in Scientific Reports have used innovative modeling tools to identify specific locations on the land where conservation actions would yield the highest benefits for downstream reefs in terms of mitigating harm to coral communities and associated reef fish populations.
"This novel tool relies on two freely available software packages and can be used in open access geographic information systems," said Jade Delevaux, currently a geospatial scientist in UH Mānoa's School of Ocean and Earth Sciences and Technology and lead author of the study. "As more and more remote sensing and bathymetry data become freely available to serve as data inputs, the model can serve even very data-poor regions around the world to allow for better management of linked land and sea areas."
This new approach can inform conservation action not only in Fiji—an archipelago of islands in the south Pacific ocean—but also in Hawaiʻi and across all of the Pacific islands.
"This approach is widely applicable across the Pacific Islands, and is especially exciting because it provides a powerful tool for local communities along with resource managers to make more informed decisions about land–use," added Tamara Ticktin, co-author on the study and a UH Mānoa professor in the Department of Botany and principal investigator on the National Science Foundation grant that funded the research.
The other study authors are:, Stacy Jupiter, Kostantinos Stamoulis, Leah Bremer, Amelia Wenger, Rachel Dacks, Peter Garrod and Kim Falinski.
The researchers focused on Fiji's Kubulau District, where indigenous landowners are already taking action to manage their resources through a ridge–to–reef management plan.
For more on the research, read the news release.
—By Tony Hall