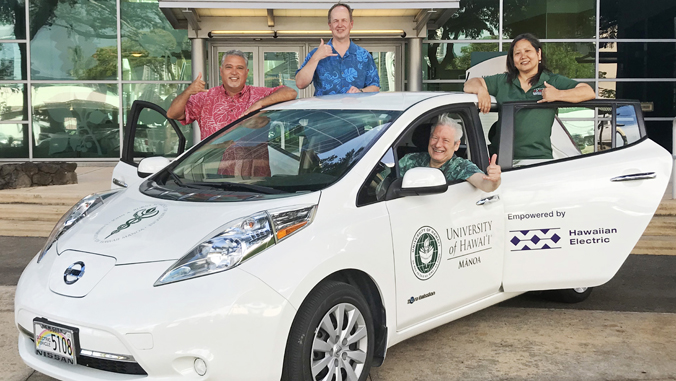 Hawaiian Electric Company and the HEI (Hawaiian Electric Industries) Charitable Foundation have donated $30,000 to the University of Hawaiʻi at Mānoa John A. Burns School of Medicine's Hawaiʻi Homeless Outreach and Medical Education (HOME) project to purchase an electric vehicle. It will be used to transport homeless patients to medical and dental appointments.
The Hawaiʻi HOME project serves sheltered and unsheltered homeless at free clinics in seven sites across Oʻahu. Volunteers and medical students provide care for acute and chronic medical problems, preventative care, health education, dental and vision screening, minor procedures, resource management, labs and vaccines and free medications for the uninsured. More than 3,700 patients have received assistance since the project began.
Jill Omori, HOME project founder said, "While Hawaiʻi HOME Project provides care for the patients that it serves, many of our patients would benefit from specialty care and are in need of labs and imaging that we may not be able to provide at our clinic sites. By providing free transportation, we can significantly increase the amount of medical and dental services that our patients are receiving."
"Hawaiian Electric and the HEI Charitable Foundation are happy to support the John A. Burns School of Medicine, its faculty and students, in providing assistance to some of the most vulnerable people in our community, especially the children," said Brennon Morioka, Hawaiian Electric general manager for electrification of transportation.
For more on the donation, go to the UH Foundation story.