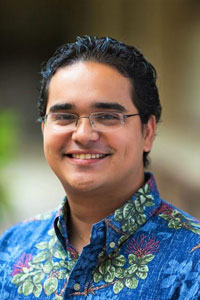 Troy J.H. Andrade, an assistant professor at the University of Hawaiʻi at Mānoa's William S. Richardson School of Law, has been deemed an "emerging teacher" by the Society of American Law Teachers (SALT).
Andrade has won the national 2018 SALT Junior Faculty Teaching Award, which honors only one or two law teachers annually for extraordinary commitment to justice, equality and academic excellence.
Andrade, in his third year on the law school faculty, was praised for his work as director of the Ulu Lehua Scholars Program. It offers additional tutoring and support during the first year of law school to students who have overcome adversity and show promise in serving underserved communities.
The 2011 graduate of the Ulu Lehua Program served as a law clerk for Hawaiʻi Supreme Court Chief Justice Mark E. Recktenwald. He then became a civil litigator with the law firm McCorriston Miller Mukai MacKinnon in Honolulu, where he focused on complex commercial issues and important constitutional cases.
"This recognition is particularly important to me, as SALT mission aligns with the dream that CJ (Chief Justice) Richardson had for our law school," Andrade said.
He will accept the award at the SALT Teaching Conference in October at Penn State University's Dickinson Law School.
See the full story on the law school's website.
—By Beverly Creamer