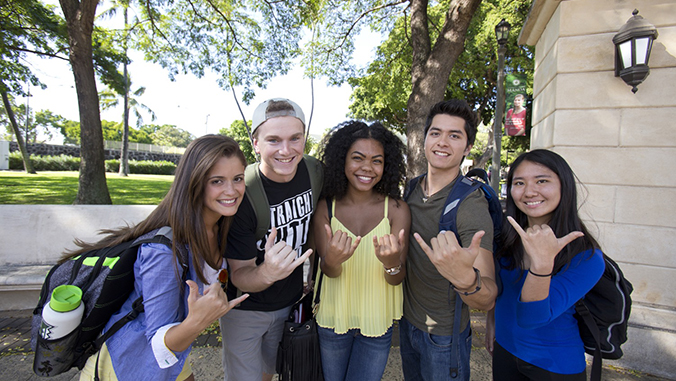 The University of Hawaiʻi was well-represented in the 2019 U.S. News and World Report ranking. All three of its four-year institutions made the rankings, along with two UH Mānoa colleges.
Each year, U.S. News and World Report surveys 1,800 universities from more than 3,000 four-year institutions across the country. The 2019 rankings were released September 10.
UH Mānoa
UH Mānoa moved up two spots to 157, the best ranking for UH's flagship campus in five years, and just the latest recognition from a prestigious higher education ranking service.
UH Mānoa is also eight in the 2019 U.S. News and World Report ranking for Best Ethnic Diversity (National Universities) and 80 in the Top Public Schools category.
"Mānoa's upward movement in academic and research categories is a testament to the high quality of education our students are receiving," said Interim Chancellor David Lassner. "We hope to continue to break into new areas of excellence that showcase the high standards the university sets for itself."
UH West
Oʻahu
UH West Oʻahu climbed two spots to number five in Top Public Colleges West. It also enjoyed a four-spot jump to 21 in Best Regional Colleges (West). "At UH West Oʻahu, our faculty and staff are committed to building dynamic, forward-thinking programs to ensure our students become our 21st century career creators, our community leaders," said Chancellor Maenette Benham. "The rankings reflect their good work and aloha for the communities and the people we serve."
In another ranking, the Chronicle for Higher Education's Almanac of Higher Education 2018–19 listed UH West Oʻahu's enrollment growth as top among 86 public baccalaureate granting institutions. Enrollment jumped 239 percent between 2006, when the campus had 866 students, and 2016, when there were 2,939 students.
UH Hilo
UH Hilo is ranked in the 96–127 category among Regional Universities West. Schools are rated according to performance across a set of widely accepted indicators of excellence.
"UH Hilo remains committed to providing our students with the knowledge and skills necessary for their future endeavors," said Interim Chancellor Marcia Sakai. "Students remain our top priority, and our goal is to improve each student's academic and collegiate experience."
UH Mānoa Shidler College of Business
Also in the 2019 U.S. News and World Report ranking of Best Undergraduate Business Programs, the Shidler College of Business improved to 108 out of 503 national business schools accredited by the Association to Advance Collegiate Schools of Business.
The college's international business program was ranked 18 along with top schools such as New York University, University of Southern California, University of California, Berkeley, University of Michigan and the University of Pennsylvania. For the past 10 years, the college has been ranked consistently in the top 25 in international business.
UH Mānoa College of Engineering
The College of Engineering broke into the Best Undergraduate Engineering Programs category at number 146 for the first time since 2012. This comes as it is also enjoying success with a nearly 200 percent increase in enrollment of students who list engineering as their college major.
College administrators launched an aggressive community outreach campaign sharing practical engineering concepts with school-age students. "Engineering's success is directly tied to the dedication and tireless efforts of the college's faculty and staff," said Interim Dean H. Ronald Riggs. "We are proud of our students and our graduates, many of whom return to mentor our current students."