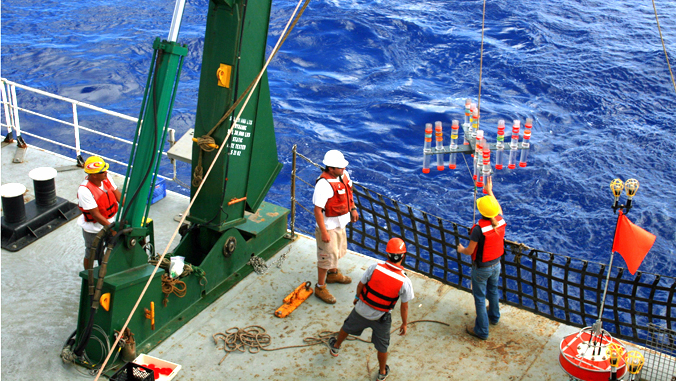 University of Hawaiʻi at Mānoa got a boost in hundreds of millions of dollars in federal and private funding in support of its world-class research. Extramural funding at UH Mānoa increased 2.4 percent, to $301,095,266, in fiscal budget year 2018.
This comes on the heels of fiscal year 2017, when research funding decreased 4.7 percent from the previous year. Competition for research funding had been increasing following the 2008 recession.
"This is a testament to the incredible work of our world-class researchers, scientists and faculty and their dedication to the pursuit of knowledge in their disciplines," said Vice Chancellor for Research Michael Bruno. "The research being done at Mānoa is having a direct impact on Hawaiʻi and the world, while providing invaluable opportunities for experiential learning to our graduate and undergraduate students."
The research funding was attracted by 29 schools, colleges and units at UH Mānoa. The School of Ocean and Earth Science and Technology (SOEST) accounted for $93,144,266 in 2018, up about 15 percent from 2017. A high profile example from SOEST is the Hawaiʻi Ocean Time-series (HOT) program that received $9 million from the National Science Foundation. For the past 30 years, the HOT program in the Center for Microbial Oceanography: Research and Education, has provided a decades-long record of how the ocean responds to climate change in one of the best-sampled places in the world.
Another example is a $1-million donation from the W.M. Keck Foundation to support a groundbreaking project by a cross-disciplinary team of UH researchers, led by Margaret McFall-Ngai, director of the UH Pacific Biosciences Research Center. The project establishes the Waimea watershed on the north shore of Oʻahu, as a model microbiome mesocosm, a study site small enough to thoroughly investigate but large enough to reveal the complexities of natural systems.
UH Mānoa's College of Tropical Agriculture and Human Resources was awarded $2.1 million in funding from the USDA's National Institute of Food and Agriculture. The Children's Healthy Living Program for Remote Underserved Minority Populations in the Pacific Region has decreased the prevalence of obesity in the Pacific.
UH Mānoa is one of 115 institutions classified as R1: Research Universities by the Carnegie Classification of Institutions of Higher Education and is recognized as a land-, sea- , sun- and space-grant institution. The university is also classified by the Carnegie Foundation as having "very high research activity."
UH Mānoa is recognized internationally for its pioneering research in oceanography, astronomy, earth sciences, Pacific Islands and Asian area studies, linguistics, education, tropical agriculture, cancer and genetics.