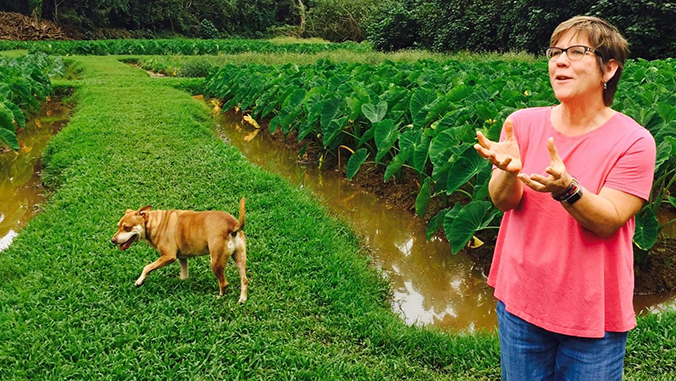 The heaps of fresh vegetables and tropical fruits stacked high on tables at local farmers' markets could be a boon to the health of Hawaiʻi families. But in many cases, those who could benefit most from the healthy fare may be missing out, according to a new study led by public health researchers at the University of Hawaiʻi at Mānoa.
Opal Vanessa Buchthal, an assistant professor with the UH Office of Public Health Studies, led team members who mapped out farmers' markets on Oʻahu using a geographic information system spatial analysis. The researchers then looked at which farmers' markets were equipped to accept debit cards through the state's Supplemental Nutrition Assistance Program (SNAP), and the number of people with SNAP benefits in nearby neighborhoods.
They found that, while 75 percent of low-income families on Oʻahu live near a farmers' market, only nine of the 55 markets accept SNAP debit cards.
"People with limited resources tend to have higher rates of chronic diseases, and also may have a difficult time finding affordable, healthy food close to where they live," Buchthal said. "Farmers' markets are a great way to increase access to food, but there is one more step that's needed to help families: to equip the markets to accept SNAP debit cards."
The researchers calculated that if farmers' markets in just six specific neighborhoods were to start accepting the debit cards, two-thirds of Oʻahu's SNAP participants would benefit. The six neighborhoods include five locations in urban Honolulu (Liliha, Downtown/Fort Street, Lower Makiki/Punchbowl, Ala Moana/Rycroft and Mōiliʻili/McCully), and one location on the (Pōkaʻicoast Bay/Lualualei Beach Park).
"Equipping these six markets to accept SNAP cards would substantially improve access to healthy foods for the county's low-income residents," Buchthal said.
The study was published August 29 in Public Health Nutrition. Buchthal's co-authors on the study were Denise Nelson-Hurwitz, who is also an assistant professor with the UH Office of Public Health Studies; Grace Wolff, a graduate student with the UH Department of Urban and Regional Planning; and Daniela Kittinger and Danielle Schaeffner at the state Department of Health.
—By Theresa Kreif