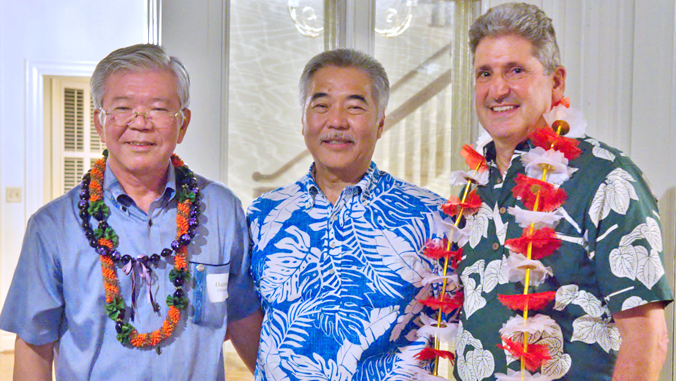 2018 marks the 30th anniversary of the University of Hawaiʻi partnership with its sister university—the University of the Ryukyus. President Hajime Oshiro and his faculty colleagues from the University of the Ryukyus joined UH leadership, administrators and faculty and Hawaiʻi Governor David Ige at an October 12 celebration to mark the occasion.
When the agreement was signed in 1988, then UH President Albert Simone praised the cooperation and friendship between Hawaiʻi and Okinawa, and spoke of students from Okinawa studying at UH, of UH faculty conducting research in Okinawa and of the promise of future collaborations and international exchanges. The partnership has fulfilled those goals over the last three decades.
"I want to thank President Oshiro for this opportunity to celebrate together on this special anniversary," said UH President David Lassner at the celebration. "I look forward to deepening our relationship through online global education and greater student-exchange opportunities."
The highlight of the partnership was the establishment of the UH Mānoa Center for Okinawan Studies in 2008. The first of its kind in the United States with a specific focus on Okinawa-related issues and research interests, the center developed Okinawa-related courses in history, languages, literature, Asian studies, anthropology, sociology, dance and music. When the center was established, the University of the Ryukyus honored UH with a pair of Shisa (traditional lion dog guardian) statues, which were installed at the UH Mānoa campus on Maile Way next to Hamilton Library.
The 30-year collaboration produced a variety of research publications including the Okinawan-English Wordbook, The Ryukyu Kingdom: Cornerstone of East Asia and Voices from Okinawa: Featuring Three Plays by Jon Shirota.
A robust exchange program was developed with student exchanges between the University of the Ryukyus and multiple UH campuses and graduate students training at each university.
As part of the celebration, the universities held the 30th Anniversary of the University of Hawaiʻi—University of the Ryukyus Partnership symposium on October 13. It highlighted the multiple connections and collaborations between the two institutions focusing on the natural environment, cultural heritage, medical education, Okinawan library studies partnerships, technology and sustainability and online global learning.
UH and the University of Ryukyus also honored former UH Regent Ed Kuba with a certificate of appreciation for all of his work to establish the partnership and his continued efforts to build on it the past three decades.