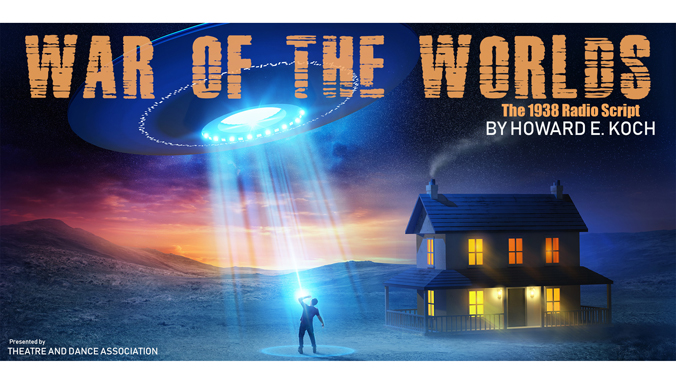 Arriving in time for Halloween, Kennedy Theatre presents a staged reading of War of the Worlds: The 1938 Radio Script by Howard E. Koch, based on the 1897 science fiction novel by H.G. Wells. This radio play is about a cataclysmic invasion of aliens from Mars that caused confusion and panic when it initially aired on October 30, 1938.
The readings, produced by University of Hawaiʻi at Mānoa Theatre and Dance students, run at 7:30 p.m. on October 26, 27 and 30, the 80th anniversary of the original broadcast.
"Radio was a relatively recent household staple and site for communication in the 1930s, and people were asking questions then about its purpose and ethical obligations," said director Kat Altman. "We see people wrestling with similar questions today when it comes to social media and other modern technologies."
The staged reading will bring audiences an authentic, yet updated, experience of this classic radio play.
"Live audiences will also get to experience visual elements that aim to enhance both the scary and the fun of the evening, from projections, to live Foley sound effects, to the occasional sight gag," said Altman.
Tickets for War of the Worlds are available online. Cash only door sales will be available at 6:30 p.m. on performance nights.