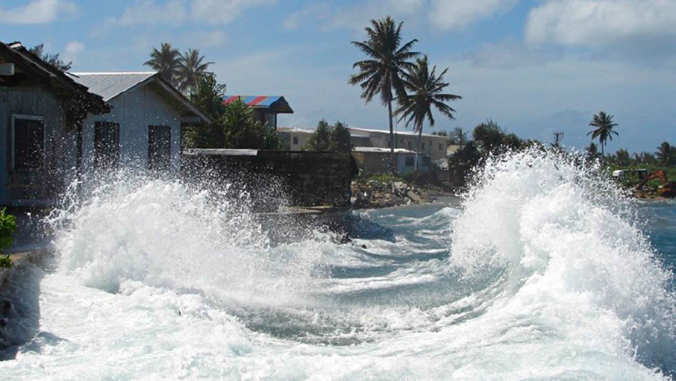 The East-West Center received $477,079 from the National Oceanic and Atmospheric Administration (NOAA) for the International Research and Applications Project, designed to support international, decision-based research on climate-sensitive health risks in partnership with the Pacific Regional Integrated Science and Assessment (RISA) program.
The grant will support collaboration between the Pacific RISA program, NOAA and the University of Hawaiʻi Sea Level Center to conduct research on climate-induced migration from the Marshall Islands to Hawaiʻi and the U.S. mainland.
Changing temperatures, rainfall and sea levels threaten the habitability of small islands and atolls, with associated health impacts such as gastrointestinal illnesses, kidney disease and vector-borne diseases.
The Marshall Islands' healthcare systems are unprepared to confront the impacts of climate change, which exacerbate overcrowding and poor sanitary conditions. In response to these complex factors, many Marshall Islands residents are relocating to other areas.
The project will expand the knowledge about vulnerability to climate change in the Marshall Islands, particularly where climate stressors lead to health impacts. It aims to improve the use of climate information to better serve migrant communities from the Marshall Islands, informing health professionals, policy makers and community organizations in sending and receiving locations about the climate-related health risks that migrants are experiencing now or expected to face in the future.
Although UH and the East-West Center are separate institutions, they have long been close partners and neighbors.