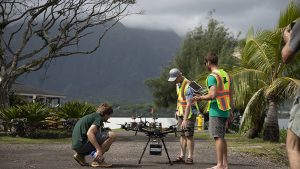 State-of-the-art, unmanned aerial, surface and underwater drones were on full display at the University of Hawaiʻi at Mānoa Hawaiʻi Institute of Marine Biology on Coconut Island. This was part of the third Maritime Awareness Network of Teaming Autonomous Systems (MANTAS) event in October 2018 by the UH Applied Research Laboratory, or ARL.
"We focus a lot of humanitarian assistance and disaster relief and basically what we do is take all the great research that's going on at the UH campus, we bring it to our stakeholders and say, hey, maybe you can try and use this to do something cool," said UH Applied Research Laboratory Director Margo Edwards.
More than 80 guests, including first responders and representatives from the military, private industry and academia, took in eight different demonstrations set up around the island. In one demonstration, an ARL drone pilot flew a $250,000 LiDAR payload developed by Denver-based tech company ASTRALite, around Coconut Island. Their hybrid technology measures both topography and bathymetry, the underwater equivalent of topography. During the flights, ASTRALite used their sensor to inspect coral reefs and underwater infrastructure such as bridge pilings that surround the island.
"Being able to link the technologies out there with the university researchers and the Department of Defense sponsors and those folks, having that bridge between the two, is a great service they provide," said ASTRALite Vice President of Operations Gerald Thompson.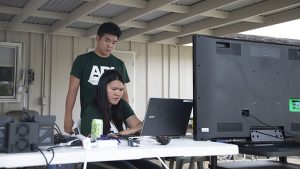 Another demonstration was by a research group made up of UH Mānoa undergraduate students from multiple disciplines, including the College of Engineering. Their focus—unmanned, surface and underwater vehicles that can execute a variety of functions such as assess a harbor hit by a natural disaster.
"Our students actually start on these projects, ideally, in their freshman and sophomore years. So by the time they are seniors, they are already doing graduate level contributions," said Brennan Yamamoto, UH Mānoa PhD student.
"I have learned a lot from this project," said Allison Wong, UH Mānoa mechanical engineering senior. "There's a lot of real life applications, thereʻs a lot of failures, but there are also a lot of successes."
Local high school students have been excelling at robotics for years, and UH projects, supported by ARL and events like this, keep that momentum going. One of ARL's ultimate goals is to create more high tech jobs in Hawaiʻi.
"A lot of things you can do by drones. Trying to protect people, trying to do humanitarian assistance, disaster relief," said Edwards. "The goal is to try and keep Hawaiian kids, using their brains, to stay here and protect Hawaiʻi and the rest of the Pacific rim."
MANTAS II 2018 started on Friday, October 26, with technology presentations highlighting current capabilities and ongoing research spanning ARL partner organizations in academia and industry. The event continued through Sunday, October 28, with technology demonstrations conducted at the Hawaiʻi Institute of Marine Biology on Coconut Island in Kāneʻohe Bay. A debrief session followed on Monday, October 29, summarizing accomplishments and discussion of next steps.
An important consideration in using drones is making sure that other users of the airspace and land or water areas are protected. Said another way, drone users, including UH ARL, must be compliant with the "rules of the road." These fall into four broad categories—airspace access, landownerʻs rights, ensuring non-hazardous operations and protection of expectations of privacy. Coconut Island in particular is embedded within Marine Corps Base Hawaiʻi-controlled airspace, and requires Federal Aviation Administration approval to operate drones within.
See more images from MANTAS II at the UH ARL site.
For more information on the MANTAS series or other ARL events, contact Mary Michelle Baghdady at mmbagh@arl.hawaii.edu.