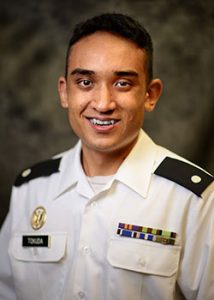 Andrew Kecskes Tokuda, a 20-year-old junior at the University of Hawaiʻi at Mānoa, is a study in contrasts.
Tokuda is the hapa son of a Hungarian refugee father and Japanese national mother, Kalman Kecskes and Yoshiko Tokuda. He spends half his time on campus as a cadet in the UH Army ROTC program and the other half as a global environmental science major with a 3.98 GPA in the School of Ocean and Earth Science and Technology (SOEST).
And the young man who shunned entering contests while at Roosevelt High School, because he didn't want to compete against his friends, was just named national winner of the 2018 Great Minds in STEM Military Cadet Role Model Award, beating out hundreds of ROTC cadets throughout the country. The award recognizes academic excellence, scientific promise, athletic prowess and community service.
Tokuda has thoroughly impressed oceanographer Jeffrey C. Drazen, head of the SOEST Deep Sea Fish Ecology Lab, who selects only a handful of PhD and undergraduate students to serve as research assistants. "Andrew has endless curiosity, energy and ambition," said Drazen. "He wants to learn about and do everything when it comes to deep-sea research. He is a very smart young man who is taking all the opportunities he can and is turning them into gold."
Aspiring officer and scientist
Looking at Tokuda's list of academic achievements makes one wonder where he finds the time and energy. He has studied ocean organisms in the Mariana and Kermadec trenches; monitored environmental changes on research cruises to Station ALOHA, the open-ocean field station for SOEST's Hawaiʻi Ocean Time-series program, about 60 miles off Oʻahu; and presented findings at the Deep Sea Biology Symposium in Monterey Bay, California. A highlight on his already impressive resume: Winning a highly competitive scholarship to intern at any NOAA facility in the nation. He will spend the summer of 2019 in Homer, Alaska, to study near-shore fish communities.
"I want to study food availability in the hadopelagic zone, which is the deepest depths of the ocean, and pursue a graduate degree in oceanography specializing in fisheries studies," said Tokuda. "My career goal is to become an officer in the U.S. Army while simultaneously serving in a federal science agency like NOAA." Also, thanks to his fluency in Japanese—the first language he learned at home—he has translated Japanese scientific journals into English, and will be able to advance discussions on sustainable fisheries in the future between Japan and the U.S.
Athlete and community volunteer
Tokuda's list of accomplishments go beyond the classroom. He continues to have the fastest run time among all 140-plus cadets in the UH Warrior Battalion, recently graduated from the Army's grueling three-week jungle survival course, and has earned more than 10 scholarships and awards as a ROTC cadet.
Tokuda pursues community service opportunities, whether by reseeding deforested areas in the Waiʻanae mountains or participating in annual beach cleanups. He has volunteered as a camp mentor to underrepresented communities to encourage higher education and, in the UH oceanography department, serves as a student ambassador and mentor to other STEM majors.
In October, when he stepped up to the podium at the Future STEM Leaders Luncheon to accept his Great Minds award in Pasadena, California, he thanked the many people at SOEST and UH Army ROTC for their support and encouragement, including Drazen, Global Environmental Science undergraduate chair Michael Guidry and Lt. Colonel Daniel A. Gregory.
"I'm so grateful to be coming to UH, because this is a Research 1 school with a profound influence on students pursuing STEM, and has a tight network with faculty who are at the top of their fields," said Tokuda. "When I was looking at universities and colleges, it couldn't get better than UH. I'm so glad to be here."
—By Diane Chang