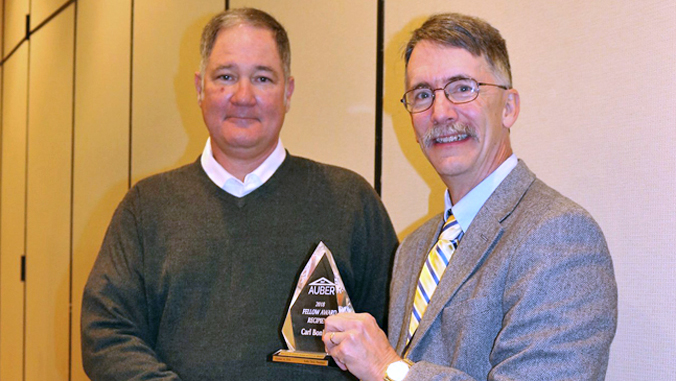 Carl Bonham, director of the University of Hawaiʻi Economic Research Organization at UH Mānoa, received one of the Association for University Business and Economic Research's most prestigious awards. Bonham and Indiana's center director Jerry Conover were named AUBER Fellows.
AUBER is the professional association of business and economic research organizations at public and private universities and consists of more than 75 leading university-based economic research centers and affiliate organizations.
"This year's two new AUBER Fellows are distinguished not only by their service to AUBER but also by their leadership at the state level," said Bruce Kellison, publications committee chair and director of the Bureau of Business Research at the University of Texas at Austin. "Both of them are superb examples of AUBER center directors who are helping business leaders and policymakers in their regions understand economic trends and events using data and analysis."
"Knowing the dedication and contribution to the organization of previous fellows, it is indeed an honor," said Bonham.
The awards were presented at AUBER's 2018 conference held in Salt Lake City, Utah.
"These awards are in appreciation for the important job that AUBER members do as they describe local and regional economic conditions and advise leaders how to create more successful and prosperous communities," said Kathy Deck, AUBER's 2017–2018 president and director of Community and Economic Research Partnerships at the University of Alabama's Culverhouse College of Business.
For more, download the AUBER news release.