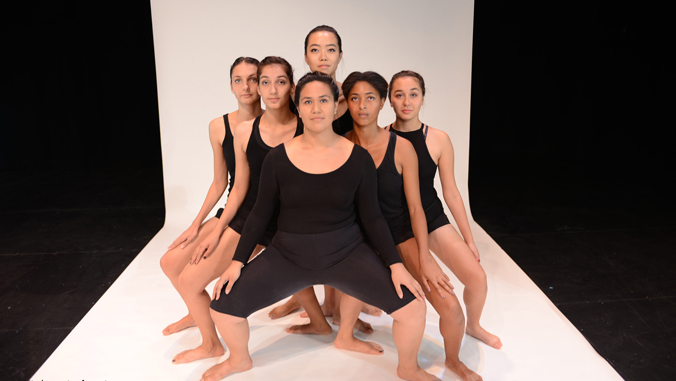 The University of Hawaiʻi at Mānoa's Department of Theatre and Dance and Kennedy Theatre presents Fall Footholds: Intersections, a biannual dance concert series featuring student choreography and performance. Fall Footholds runs November 14–18.
This dance concert showcases the talents of PhD in theatre (performance studies) candidates, master of fine arts in dance candidates and undergraduate dance student artists who explore how multiple aspects of life and society intersect.
Student choreography and performances
Angela Sebastian choreographed "Fight for what?" It questions the relationship of what women fight for and what fights against them.
Tavehi Tafiti and Catherine Teriipaia co-choreographed "Tamariʻi No Tahiti," a dance depicting four women who reconnect to their ancestors through the beating of a drum.
Sophia Carter presents "Dadamea." The piece is inspired by "an underlying hum, a vibration in the soul, the…longing we have for others and our reliance upon them as we live day to day."
Marley Aiu presents "Diastolic Recollections," which explores the physical systems of the body and how they interact with and are exposed by systems that are societal, binary, genealogical and geographical.
Charessa Fryc choreographed "Deep Ecology," a dance reflecting on environmentalism and humankind's impact on the Earth.
Scott Felluss presents "Position," a piece examining the classical Indian text, Bharatamuni's The Natya Sastra.
Isaac Johnson, a dance major, also presents a piece for the dance concert.
Event information
Primetime Series at Earle Ernst Lab Theatre dates:
November 14–17 at 7:30 p.m.
November 18 at 2 p.m.
Ticket prices:
$18 Adult
$16 Senior, Military, UH Faculty/Staff
$13 Students/Youth
$8 UH Mānoa Students with Valid ID
Tickets available online at etickethawaii.com, by phone at (808) 944-2697, and at participating outlets.