Editor's note, November 19—The UH Alumni Relations Office has made the difficult decision to cancel the December 6 UH Alumni Mingle & Jingle event at the Sheraton Waikīkī. This decision was made in light of the continuation of the Marriott workers strike and picketing. We are disappointed, but for the experience of our participants and vendors, we believe this is the right decision.
Though the event is cancelled, we would still like to support our alumni vendors as best we can. Visit the UH Alumni website to see the list of our vendors, and consider supporting their locally-owned business this holiday season.
If you have any questions or concerns regarding the cancellation or any other matters, please email contact@uhalumni.org or call Laura Wood, Associate Director of Alumni Relations Special Events at (808) 956-2389.
We did not take this decision lightly. We hope you understand our concerns and will join us in our future endeavors to support the alumni of the University of Hawaiʻi.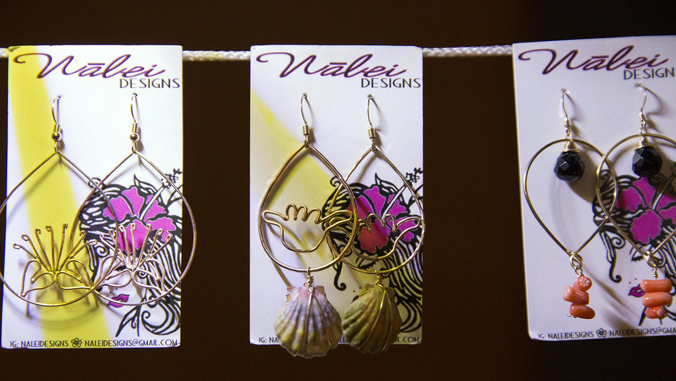 The University of Hawaiʻi Office of Alumni Relations is hosting its second annual holiday Mingle and Jingle to benefit UH student scholarships on Thursday, December 6, from 5:30–8 p.m. at Sheraton Waikiki. The event is open to the public.
Sheraton Waikiki Executive Chef and Kapiʻolani Community College alumnus Matt Naula will be on-site whipping up holiday food and drink specialties. The Windward Community College Theatre program will perform a special holiday surprise at the event.
An alumni-made pop-up boutique will showcase UH alumni vendors and their best holiday selections including jewelry, clothing, artwork, gifts and more.
Alumni-made pop-up boutique vendors:
Aim HI Every Day
Alemda Studio
Angel Seashells – Angelica Faylogna
Art of Aloha
Ashley Kaase Art
AshleyRose Clothing
Blue Planet Surf
Choco

Leʻa

Color Street-Simple Sexy Nails with Gen
Elephunk Market
Green Room

Hawaiʻi

HVN Apparel
Joli Joli Jewelry

Kahoʻokele

Art
Kalama Jewelry
Kohole Ocean Gems
Kula and Kō
Kūlua LLC
KYOTÉ designs
Ladeña

Hawaiʻi

Lahaʻole

Designs

Lōliʻi

Swimwear
Mālie Organics
Malorie Arisumi
Mrs. Haole Brownie
Nālei Designs
Natural Aloha
NOA Makaha
Nomad

Hawaiʻi

ʻOpihi

o Nā Lani
Salty Girl Jewelry
Sundaze Bikinis
Treehouse Daydreams
Tickets are $45 per person. To purchase tickets, visit Eventbrite.