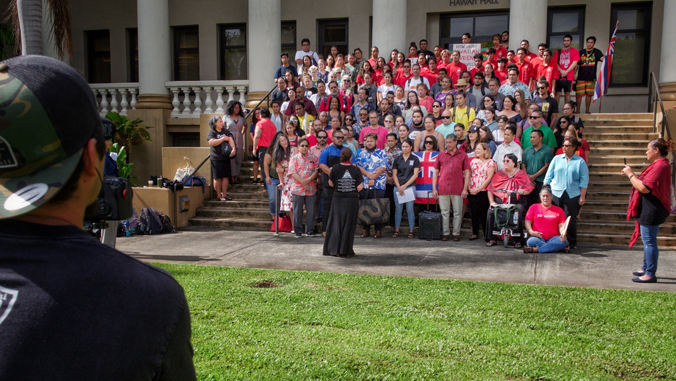 More than 200 students, faculty and staff from various Oʻahu-based University of Hawaiʻi campuses, and their supporters, affirmed their commitment to protect Maunakea and their opposition to the construction of the Thirty Meter Telescope (TMT) on the summit of Maunakea, at a December 5 news conference on the UH Mānoa campus. The group called upon UH President David Lassner, the UH Board of Regents and the TMT corporation to terminate any and all agreements for the construction of TMT.
"As the university community, we should oppose research that severely compromises the work already done to build an ethical relationship between the academy and our community in Hawaiʻi, and that undermines the UH goal to become a model Indigenous-serving institution," said UH Mānoa Political Science Department Chair Noelani Goodyear-Kaʻōpua in a news release announcing the press conference.
"The policy and practice of UH must begin to prioritize the protection of the Mauna's natural and cultural resources, respect the protectors and Native Hawaiian cultural practitioners, and begin to heal the degradation that has already occurred," added UH Mānoa Hawaiian Studies Department Chair Konia Freitas.
In response, UH spokesman Dan Meisenzahl said university leadership is listening.
"We may disagree about TMT but we do not disagree about the importance of better stewardship," said Meisenzahl.
The group is also urging UH leadership to reject the current proposed Maunakea Administrative Rules, claiming they would restrict Native Hawaiian spiritual and customary practices and criminalize those seeking to protect and sustain the mountain. The draft of the administrative rules is currently being amended based on feedback received during four public hearings held earlier this year. A second round of public hearings is expected to be held in early 2019 to solicit further feedback.
"We strongly encourage everyone to continue to participate in this process," said Meisenzahl. "It is important to note that the proposed rules do not provide for criminal sanctions and do not prohibit Hawaiian customary practices. They are meant to protect cultural and natural resources from certain public activities, and to help ensure public health and safety."