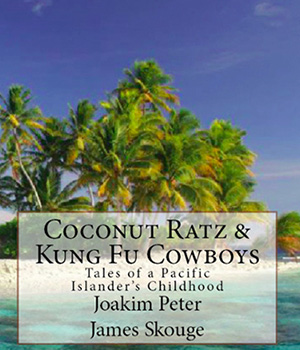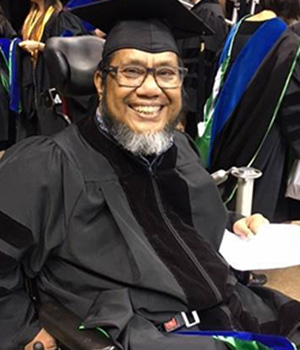 Coconut Ratz & Kung Fu Cowboys, the autobiography of Joakim "Jojo" Peter, explores Pacific island cultures and ways of life and the disability experience from an insider's perspective. The book's authors are associated with the University of Hawaiʻi at Mānoa College of Education (COE).
Peter, who is from the Mortlock Islands of Chuuk State in the Federated States of Micronesia (FSM), is a UH Mānoa graduate who earned his PhD in special education. He worked on his autobiography with retired COE professor James Skouge.
"This book is an autobiography, which makes it a rarity among Micronesian storytellers," said Skouge. "Peter vividly describes his childhood growing up on Ettal, an atoll in the outer island Mortlock chain. While in high school, he suffered a spinal cord injury which resulted in quadriplegia. His story is one of resilience, self-determination, optimism and appreciation."
More about the authors
Peter, graduated from the University of Guam and UH Mānoa. His graduate studies include two master's degrees in history and Pacific Island Studies and a PhD in exceptionalities from UH Mānoa.
For 15 years, Peter served as cultural and education specialist and director of the Chuuk campus, College of Micronesia – FSM, before returning to Hawaiʻi in 2011 to pursue his doctoral studies. From 2013 to 2017, he served as outreach liaison with Legal Aid Society of Hawaiʻi supporting Honolulu's Micronesian diaspora communities and other homeless populations. Peter became Hawaiʻi's first Micronesian commissioner in 2017, appointed by Governor David Ige to serve on the Hawaiʻi State Civil Rights Commission. Currently, he serves as Senior Specialist for Community Engagement and Educational Equity with Pacific Resources in Education and Learning.
Skouge is a retired professor of disability studies and assistive technology from UH. He promoted digital storytelling throughout the Pacific region, "giving voice" to Pacific Islanders with and without disabilities.