A group of University of Hawaiʻi at Hilo history students traveled in November to the historic Kalaupapa community of Molokaʻi for a service-learning project. The students visited the site where patients with Hansen's disease, also known as leprosy, were quarantined for more than 100 years.
The students cleaned pathways, structures, and beaches. They removed invasive plant species and left lei at the cemeteries. Beyond that, the students experienced the history of Kalaupapa, feeling the impact of the forced isolation once endured by the patients, and learning first-hand the historical significance of the area.
"Because the trip is connected to the curriculum in my coursework, the students go very well-prepared in understanding the history of Kalaupapa and the history of leprosy before we even get there," said Kerri Inglis, professor of history.
For the duration of the trip, students were immersed in the history of Kalaupapa as they stayed in buildings that were present during the period of isolation.
"There is a lot of emotion in the trip as well because we are visiting certain places throughout the peninsula that have great historical significance and either myself or some of our sponsors from the national park will share some of the moʻolelo," said Inglis. "It can be very moving."
Students share their experience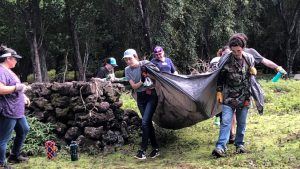 After returning from the trip, students shared their experiences and connections in a presentation open to the public.
UH Hilo student Leilani DeMello shared a picture of a rock wall built over one of the graves of a patient who was at Kalawao, the original settlement on the east side of the peninsula.
"In sharing their stories, we're keeping their voices from being silenced," said DeMello. "We are able to bring stories back to life that would otherwise be forgotten."
Through their presentations and sharing the moʻolelo, students fulfilled the wishes of patients and the community of Kalaupapa.
"[The residents] want their story to be known, they want Hawaiʻi and the world to be educated about the disease, its history, and it's always a way of breaking down stigma," said Inglis.
To read the full story go to UH Hilo Stories.
—A UH Hilo Stories article written by Alyssa Mathews, a freshman at the University of Hawaiʻi at Hilo.