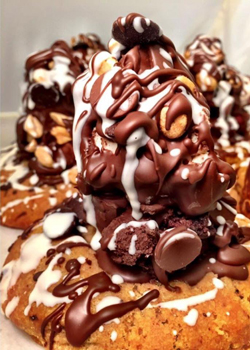 Before she was the Maui Cookie Lady, an emerging star among Hawaiʻi startups and a favorite of celebrities, Mitzi Toro was a schoolteacher. Cookie-baking was a lifelong passion, but it remained a hobby until her father's sudden illness, during which Toro developed a deep respect for his hospital nurses. As a gesture of appreciation, she sold cookies at a Maui farmers' market to raise funds for the compassionate nurses who cared for her father.
Patrons fell in love with Toro's small-batch, hand-rolled cookies with Maui-made ingredients, and a few Saturdays turned into a full-time calling. Along the way, she took courses at UH Maui College's Food Innovation Center, a startup incubator providing technological expertise, innovative training, and consultation for new and established food entrepreneurs.
Now her cookies are adored by the likes of Dwayne "The Rock" Johnson and Ludacris, who've shared on Instagram their admiration for such Maui Cookie Lady creations as Da Half Baked, a chocolate chip cookie containing Oreo cookies, Snickers bars and Reese's Peanut Butter Cups.
Read more about the Maui Cookie Lady at UH Maui College Alumni website.