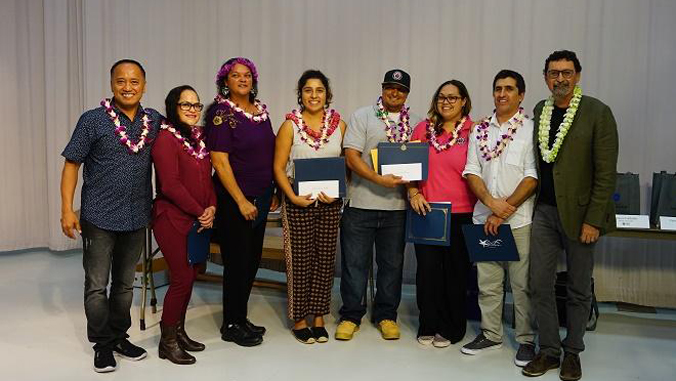 The University of Hawaiʻi Maui College hosted Maui Food Industry X–celerator Program's (MFIX) sixth pitch event, with three of Maui's most innovative food businesses winning top awards, on November 8.
Participants showcased their products and networked with local investors, industry leaders and prospective consumers. The pitch was a highly anticipated culmination of eight weeks of training focused on Maui county's growing demand for new value-added food products. The line up of artisanal products revealed the talent, creativity and ingenuity of Maui county food entrepreneurs.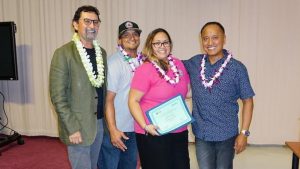 Top presenters, Cymbree Kailiehu and Glen Fevella, Cymz Kre8tionz owners, pitched delicious ube chantilly tartlets. The treats were bite-sized, designed to appeal to all ages and to exemplify tasteful innovation in action.
Second place winner, Veronica Jachowski, pitched nutritious ono bone broth, a product with potential to support local "zero food waste" initiatives by producing all-natural, flavorful collagen-rich bone broth utilizing by-products from local cattle ranching.
Third place winner, Tina Kekoolani, pitched "Haleakala Supah Shots," her three island-style flavors of handcrafted Hawaiian chili pepper tonics made from locally grown peppers offering many health benefits.
"During the MFIX course, Cohort 6 participants formed a supportive and nurturing class environment essential to each company's success and connected each fledgling food company with mentors," said Greg Cabanting, MFIX instructor. "The mentors came from our community's businesses and provided an invaluable networking experience for food business start-ups!"
This round of pitch judges represented various sectors of the food industry: Garrett Marrero from Maui Brewing Company, Kim Robello from Minit Stop Hawaii, Jessie Ibanez from Tamura's Maui and Kyle Sakamoto from Central Pacific Bank. Pitch winners were selected based on product innovation, presentation of concept and business acumen.
"We are very grateful to our sixth cohort major sponsors the Ulupono Initiative, Flavor Waves, Focal Point Consulting, Kai Marketing, King's Hawaiian, Rimfire Imports, Maui Food Technology Center and Whole Foods Market," said Chris Speere, MFIX coordinator.